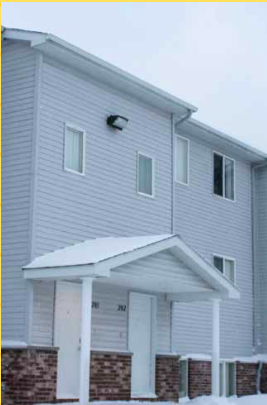 Many students' housing contracts expire at the end of the spring semester, so with a quarter of the semester complete, students are exploring housing options for next year.
With more than a dozen apartment complexes to choose from in addition to on-campus residence halls and apartments, there are many housing options in Big Rapids for Ferris students. For some, the familiarity of staying on campus and being near all the on-campus amenities and events leads them to remain in the residence halls or on-campus apartments. For others, the variety of off-campus housing options persuades them to move to an apartment complex or house.
Ferris nursing junior Brandy Wagner says that after one year of living in Ward Hall, she and her friends decided to move to Campus Creek Apartments.
"We wanted to have our own space, and we kind of got sick of the Rock. We wanted to cook on our own, be able to buy our own groceries and save a little money, and the apartment has more space than a dorm and is a little more homey," Wagner said.
For Ferris' housing office, much of the focus is on giving students incentives to stay on campus, along with maintaining a variety of good options for students.
"In the last couple of years, we've really invested in our facilities. Clark Hall had a major renovation with new windows, lobby — new bedroom furniture next year — and we're looking at doing that with more halls this summer," Ferris Director of Housing and Residence Life Bryan Marquardt said. "We also give free parking to all returning students. That's about a $100 savings right there. A lot of people will look at cost, and our cost ranges from $424 per month to about $600 per month, and it depends upon what you want. If you're living in a double, it's going to be cheaper, and if you live in a single, apartment or suites, it will be more expensive than a hall. But when you think about that it's all-inclusive, there's no parking pass, there's no heat, no electric, no cable, no WiFi and you start adding all that together it's very comparable and competitive."
For apartment complexes, the pitches to students are similar as they try to attract potential off-campus renters to sign leases with them. Property Manager of Venlo, Tioga and Northland Flats apartments Sarah Peterman says that the vast variety of apartments available, including options with covered parking and some on the river, helps them attract students who are looking to move off campus.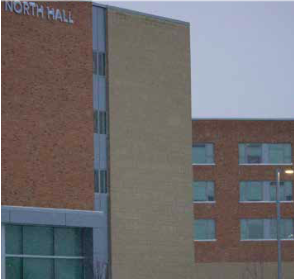 "Apartments offer more of that home feeling, the feeling that you're grown up and starting that next phase in your life. It's your personal space, it's your bedroom, all of the bedrooms have a lock, and that's your personal space and then you share a common space," Peterson said. "We supply cable and Internet at all three properties. We also have fitness centers at Venlo and Northland Flats, Venlo and Tioga have in-unit laundry and Northland Flats has on-site laundry."
Ferris pre-physical therapy freshman Carli Martin says a combination of issues with on-campus housing and wanting some of the benefits of being in a house, such as owning pets, has convinced her to move off campus for her sophomore year.
"The single dorms aren't that fun. When you come to college you expect doors to be open and you'll meet some friends, but they close the doors and no one talks to anyone. My window leaks every time it rains, and the pipe above my bed leaks every time it leaks too," Martin said. "It's more expensive [to live off campus], but I feel like I'll enjoy it more. A lot of the dorms are run down other than North, which is only for freshmen. My mom went to college here, and the dorms are exactly the same."