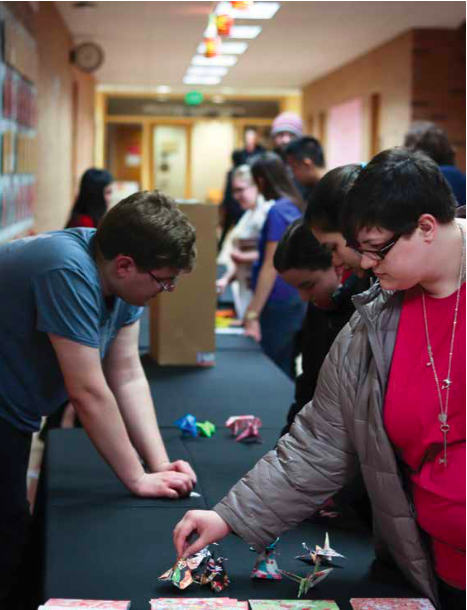 The Ferris Diversity and Inclusion Office, in collaboration with the Office of International Education, hosted the Lunar New Year Celebration to honor the holiday.
"It's been a great success in drawing a big crowd to learn about and participate in the diversity that makes up the Ferris community," Ferris international student recruiter Jacob van Laar said. "Students, staff and the Big Rapids community have the chance to enjoy new foods and get a window into how different cultures ring in the new year."
Initially created by the International Student Organization, the Lunar New Year Celebration Tuesday, Feb. 5, in the IRC marked 2019 as its fth consecutive year. Volunteers from the International Student Organization and Asian Student Organization helped host the event, with students serving food and operating arts and crafts stations in the IRC hall.
"It has become a great opportunity for student organizations to collaborate," van Laar said.
The Five-Star Event featured several musical acts, including a performance of a traditional Hmong song by Johnny Xiang, and traditional Chinese songs performed by singers Hangjian Lui and Xiapei. Leo Hernandez provided a martial arts performance set to music as well.
"I passively celebrate Chinese New Year, kind of like, 'Hey, it's the Lunar New Year! Let's celebrate,'" Ferris mathematics senior Dalton Learned said. "I try and participate in local events, too."
Ferris students and staff lined up to taste traditional Chinese cuisine. By the food serving table were several arts and crafts stations, featuring origami making and games with various Chinese and Japanese candy as prizes.
"I think it's pretty cool," Ferris digital animation and game design sophomore Breanna Marlatt said. "I know the significance of the imagery and I know some of the stories, things like that."
Trifold posters were displayed in the IRC hallways discussing different Lunar New Year celebrations from the Vietnamese, Chinese and Korean New Years. According to the Chinese calendar and zodiac, the year 2019 is the "Year of the Pig." In traditional Chinese culture, the pig is meant to be a symbol of wealth.
"For students coming from abroad and being immersed in American culture, it can represent a little piece of home," van Laar said. "The broader community gets an international experience without having to leave the country or even campus."