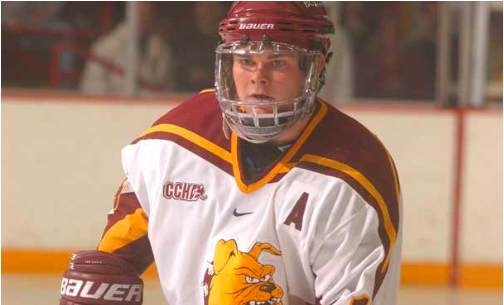 Ferris hockey alum and Chicago Blackhawks left winger Chris Kunitz passed a signicant milestone, becoming one of 32 undrafted National Hockey League (NHL) players to reach 1,000 games played.
Thursday, Feb. 14, Kunitz and the Blackhawks were set to face-off against the New Jersey Devils. Even though the play between these two teams is competitive, it went on the back burner as the Blackhawks recognized Kunitz for what would be his 1,000th game played. During warmups, Kunitz's number 14 was all you could see on the Blackhawks' side as a "tip of the cap" to his achievement.
Kunitz played for the Bulldogs from the 1999-2000 season to 2002-03 when Ferris was part of the Central Collegiate Hockey Association (CCHA). During his time at Ferris, Kunitz totaled 99 goals and 76 assists, and is 6th in all-time point scoring in Ferris hockey history with 175 points. Just one of the many things that Kunitz achieved, all of that would be non-existent if it were not for a simple phone call.
Before his college career, Kunitz played junior hockey in Melville, Saskatchewan, Canada, where current Ferris recruiting coordinator Drew Famulak is from. According to Ferris head coach Bob Daniels, while Famulak was down at Ferris, his father was up in Melville and witnessed Kunitz play and made the phone call to his son and told him he had to see Kunitz play. After that phone call was made, the rest was history.
"I can tell you that the pleasure was mine. It's great to be able to say, 'Hey, I was able to coach a player that has done what he's done, 1,000 games,'" Daniels said. "To me, it does not seem that long ago, but I can remember all of the good things he has done for our program, too. Daniels his senior year was the first time we have ever won a conference title, first of our four conference titles, but we had never won one before that."
During his senior year at Ferris, Kunitz was the core of the team that won Ferris' first-ever conference title and took the Bulldogs to their first-ever NCAA tournament. In that time, he recorded a single-season record for assists with 44 and points with 79, while also totaling 35 goals; these numbers earned Kunitz the CCHA Player of the Year. He was also the runner up for the Hobey Baker award, which is awarded to the best collegiate hockey player each season. Daniels is still a little sour to this day that Kunitz did not receive the award.
"He's one of a kind, really," Daniels said. "He will go down as one of the top players ever to dress for Ferris. If there were a list with the top 20 players in the history of the CCHA, he would be a player named on it, and it gives me warm feelings to know that."
Kunitz also has some hardware that makes him one of the most successful college hockey players in NHL history. Not only is he the 335th player to reach the 1,000 game mark, but he is also a four-time Stanley Cup champion, which came from two separate teams: the Anaheim Ducks and Pittsburgh Penguins. Kunitz also has an Olympic gold medal with Team Canada and was an NHL All-Star, all while going undrafted out of college.
His 1,000 games do not take his 178 playoffs games into consideration too, where he has netted 27 goals while assisting 66 goals, which comes out to 93 points during his postseason play. Another key to Kunitz's career was his trade from the Anaheim Ducks to the Pittsburgh Penguins in 2009 for Ryan Whitney, where he won the first of three Stanley Cups with that team.
During his 1,000 game career, Kunitz has also gone on to have a total of 613 points, with 264 of those points coming from goals scored and the other 349 from assists. It did not surprise Daniels that Kunitz made it to the NHL, after being signed as a free agent in 2003 by the Anaheim Ducks, and he also thinks that with those career numbers, Kunitz will go down in the books forever.
"To me, I am not sure what you quite need to be in the Hall of Fame," Daniels said. "But I have always heard 1,000 games and 600 points gets you in, so I am hoping that one day he will be a Hall of Famer."
Kunitz is a big spotlight when recruiting players, where they show that you can make it to the NHL by starting here at Ferris. Daniels said he is glad that Kunitz could be the one to represent the Ferris hockey program.
"If we were able to pick a player's personality that we would like to have gotten this notoriety, it would have been Chris. There is a number of guys, but certainly Chris would be there," Daniels said. "One, he is a great family man. Two, he was always very kind and mature away from the arena. He is not self-absorbed, he is very humble and he has a really good world view. He was a good student while he was here, so if you are saying 'Hey, this is going to be a guy that is going to go out there and be a flagship for the program and a poster person given his notoriety,' we could not have handpicked a better kid. I think that's important that people know what kind of person he is."