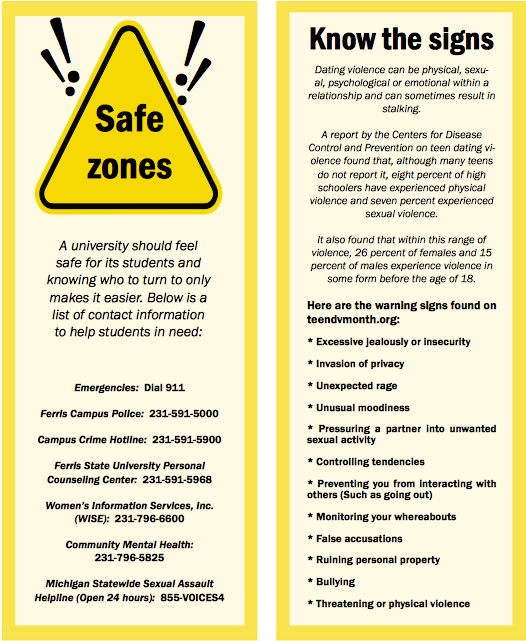 According to a 2018 campus climate survey summary by Title IX, 367 out of 1,518 Ferris students, or 24.1 percent, reported experiencing relationship abuse of some form.
In an effort to change these statistics, and February being Teen Dating Violence Awareness Month, the Anti-Violence Coalition will be hosting a Dating Violence Awareness Workshop.
"We never really have any workshops on campus covering topics like this. It's also a topic that no one ever really wants to talk about it publicly, which should be talked way more especially in today's generation with all the uproar involving sexual assault,"
Ferris criminal justice sophomore Leonardo Almanza said. Ferris' Student Life department launched the Anti-Violence Coalition, a team comprised of faculty, staff and students, with students focusing on providing peer education, after receiving a grant of almost $40,000 for one year from the State of Michigan.
"We want to raise their awareness on healthy, unhealthy and violent behaviors within relationships – an opportunity to engage in conversation about recognizing abuse in relationships," Ferris Student Life Project Manager and Greek Life Coordinator Ashley Schulte said.
Schulte is supervising the peer educators for the anti-violence work on campus and is hoping the workshop will help in raising the bar for providing anti-violence help on campus.
Almanza, a peer educator, has worked alongside other students to produce this project and will use his own training from dating violence, stalking and sexual assault to teach others the signs of dating violence and how to help.
"Some signs are being more isolated from friends to be with an intimate partner all the time. Also, if the victim isn't acting themselves lately — depression or anxiety," Almanza said.
Schulte hopes the Dating Violence Awareness workshop will give students the knowledge on how to navigate their own relationships and consider the challenges others may face in abusive relationships.
"It isn't always easy to 'just leave,' and that might not be helpful to say to someone who is in a relationship they're not sure how to leave yet," Schulte said.
Aside from learning about the signs of dating violence, students will also get an opportunity to learn how to be more aware in their environment. This will include examples of dating violence, what it looks like long-term and short-term, as well as who can help.
"There is the Title IX Coordinator, WISE [Women's Information Services, Inc.] has a Victim Advocate here in Big Rapids and many other services such as the police, counseling and online resources/hotlines," Almanza said.
Ferris environmental biology sophomore McKenna Saunders thinks having a workshop for students to learn is important, as some students don't know the signs or have found themselves in abusive relationships.
"I've been fortunate to have parents where my dad is an officer and my mom was a counselor most of her life, so they've been able to provide me with the tools to pick up on an abusive relationship," Saunders said.
The Dating Violence Awareness workshop will be held 11 a.m. — 12:15 p.m., Tuesday, Feb. 26, in the University Center room 116B.