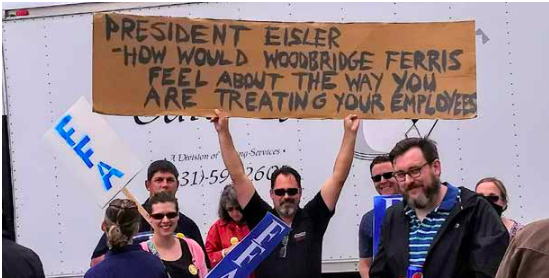 Four months after contract negotiations ended between Ferris and its faculty, Ferris Faculty Association President Charles Bacon said faculty morale is worse than during the negotiations.
Bacon says he believes that if there were to be another vote of no confidence against Ferris President David Eisler, the results would be even worse for him than the 88.5 percent that voted they had no confidence in Eisler during September 2018.
"[Eisler] is the first president to have two votes of no confidence, overwhelming votes, so the Board of Trustees knows exactly where the faculty stands. I don't know if there's anything more we can say on that," Bacon said.
Ferris Communications Director Michelle Rasmussen said that the university and Eisler are working to address the issues of faculty morale.
"President Eisler works very hard to recognize the outstanding efforts of faculty and staff, and to celebrate the achievements of our students, along with the education provided by our faculty. He communicates regularly with the university community and interacts with faculty and staff throughout the university. He takes time to listen to faculty and staff to better understand the challenges they face," Rasmussen said. "There is much to celebrate at Ferris State University, and he works to emphasize the many positive points of pride for our university and our people."
Bacon said for about two weeks after the contract was signed, faculty morale was high, but that it hit a new low after they received their first paychecks. The FFA alleges their paychecks were short about $700 after the university withheld the pay, arguing that it was retroactive pay, which is a violation of Michigan law. The FFA, however, argues that the pay was not retroactive and was not specified as such in the contract.
"Labor relations at Ferris have perennially been poor. We don't want them that way either. I have to le grievances on a weekly basis and say, 'Here's the contract, don't do that,'" Bacon said. "I think the faculty have transitioned — from mid-summer through the November period was a very intense time. We were protesting and demonstrating and doing a lot.
"They've moved on and I'm glad because we don't want to be in that mode 100 percent because it's exhausting, but when Eisler does these things like the pay after the fact … it just means we have to keep moving forward and keep the pressure on, because it's almost like if we don't do it, they're going to just run amuck."
Rasmussen said that while the filing of grievances is unfortunate, it is worth noting that filing a grievance does not necessarily mean the contract has been violated, and the university works through each grievance led under the process outlined in the contract.
Some Ferris students believe that if there were to be more protests against Ferris and Eisler by the FFA, the student body would be in support of the FFA.
"I think a lot of the students, based on what I've seen and heard, do support the FFA. I think if professors went back to protesting that they would get a lot of support from the student base," Ferris criminal justice freshman Gerrit Groenendyk said. "I think if they did replace Eisler that there would be more morale built, but it's more so about the actions of that president. If there was a new president going straight back to what Eisler is doing, that could make a big storm even worse."
The continuing feud between the FFA and Eisler has many other Ferris students believing that it is giving Ferris a bad image.
"Obviously, the outlook of how people outside of Ferris view the school [would be negative.] I think Eisler at the moment is not good for the view of the school. I think the protesting could be good and bad. It shows the practice of freedom of speech on campus, but at the same time that could be students missing out on class time and that's a big negative," Ferris elementary education freshman Charlotte Westervelt said. "You have people looking at the school thinking that they're wasting our money and that's a huge negative."