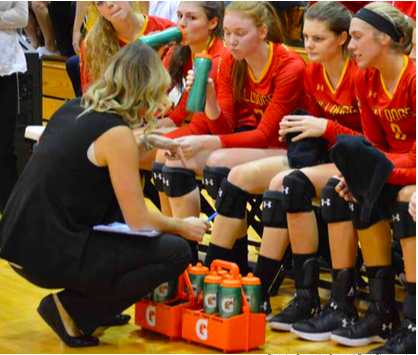 Ferris assistant volleyball coach Christa Cooper is getting her chance to lead next season as the new head coach at Division II University of New Haven (Connecticut).
Cooper is an American Volleyball Coaches Association "Top 30 Under 30" honoree for her work as the assistant volleyball coach at Ferris, who went 27-5 in 2018 and won the Great Lakes Intercollegiate Athletic Conference (GLIAC) Championship before falling in the Regional Seminals of the NCAA tournament.
Therefore, it should come as no surprise that New Haven, a program coming off of a successful season of its own, would hire the top assistant of a consistent powerhouse in Division II volleyball to be the new leader of their program.
"I was really excited when I talked to the athletic director at New Haven about Christa because I thought it would be a really great fit for her," Ferris volleyball head coach Tia Brandel-Wilhelm said.
Cooper accepted the job and she'll become the program's fourth head coach in New Haven's 43-year history.
"I was extremely excited and honored to be chosen to be the next head coach at the University of New Haven," Cooper said. "A career goal of mine was to be a head coach at a Division II program, and to be selected to lead a program with a winning tradition was very humbling."
Cooper had been looking forward to this day for many years now, and she wasn't the only one who was waiting for the day she'd run her own program.
"As a head coach myself, my job is to help further the careers of my assistant coaches," Brandel-Wilhelm said. "We knew that she wanted to be a head coach at a good program. We had been building her experiences and contacts in that direction."
The plan to elevate Cooper to a head coaching position elsewhere leaves the Bulldogs with a hole in their program, not only in an assistant coach, but as a person beloved by players and everyone else involved in the Ferris volleyball program.
"I was shocked to find out she was leaving," Ferris junior setter Maeve Grimes said. "I'm very close with Coach Cooper since she recruited me after high school. Obviously, it's really sad to say goodbye, but she had an offer she couldn't resist."
In fact, it seemed like the goodbye to Cooper was emotional for all the players, according to Grimes, with many tears shed.
However, everyone seems condent in Cooper's ability to run the New Haven program in a way that will produce success on the national level.
"There's no doubt that she'll be successful," Brandel-Wilhelm said. "She's well prepared for this opportunity and she'll be fantastic."
It's fair to be confident, given Cooper's record on top of helping guide the Bulldogs to five straight GLIAC titles, she was a team captain herself when she played for Michigan Technological University. She also has experience working for Division I Montana State University, which has served her well in her years at Ferris.
Grimes vouched for Cooper's ability for success as well, having played for her for three years.
"I have absolutely no doubt she'll turn them into a championship caliber program," Grimes said. "It would be real cool to see them in a regional matchup or something. It'd be a really exciting match with great coaching on both sides. It would be fun."
While this is a great move for Cooper, it leaves the Bulldogs without an assistant coach. According to Brandel-Wilhelm, the search will begin almost immediately. The position has been posted and in the coming weeks, Brandel-Wilhelm hopes to have the interviews wrapped up. She said she would like to get someone in the building very soon, as spring workouts are right around the corner.
"Ferris State and the Bulldog community became home for me," Cooper said. "I will miss all of the people that I now consider family and I will so miss working with the wonderful ladies that made up the volleyball program. But I will be so proud to see what they accomplish in the future."