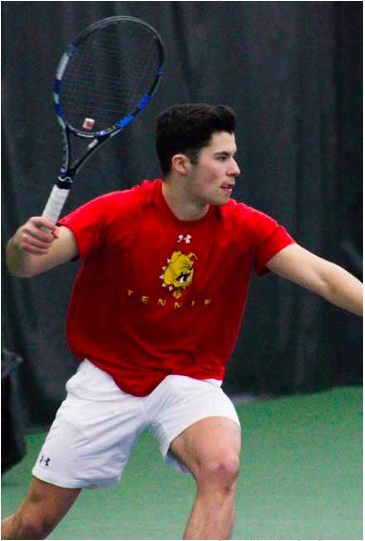 Men's tennis entered their season as the Great Lakes Intercollegiate Athletic Conference defending champions and nationally ranked No. 17, but are only 2-4 halfway through non-conference play.
Ferris tennis interim head coach Mark Doren said the early season struggle is due to losing players last year.
"We were ranked 17th going into the winter and now we're 23rd," Doren said. "But we lost some key players from last year. Two of our top four players from last year are now gone so that's been tough to replace. But at the ITA tournament in the fall, one of our doubles teams made it to the finals out of 26 schools there, so that helped us contribute to the Top 25."
The Bulldogs have won the GLIAC championship for the last four years and with six of the eight members being juniors or seniors, many of them have had the experience of winning bigger matches.
Doren is the fourth coach in four years for the Bulldogs, so the older players have had to become leaders of the team.
"There hasn't been a lot of stability of the team, but the stability that there has been has come from the upperclassmen," Doren said. "Those two seniors really step up and they're fantastic leaders."
After a tough 6-1 loss Thursday, Feb. 21, against the nationally ranked No. 9 Indianapolis University (Indiana), the team came out strong Saturday, Feb. 23, against Tiffin University (Ohio).
The men rallied in the doubles competition and swept all three opponents, racking up the doubles points and won five out of the six singles competitions.
During the singles competitions, Ferris senior Steward Sell defeated his opponent 6-1 twice for the win. Ferris freshman Ayush Deswal was tied with his opponent going into the third match, but he ultimately lost 19-17.
Deswal said while he is playing well, there are things to improve while in season that will make him a bigger impact player.
"Right now I'm playing good, but until the offseason I would like to improve my rallies and my doubles game," Deswal said. "If I do that, it will be a good asset for our team."
GLIAC play does not start until after spring break and the team will face four more non-conference opponents to prepare for league play. After their successful Saturday outing, the men catch a break until March 11, when they will play Rollins College in Winter Park, Florida. According to Deswal, the trip will bring them harder competition, but he looks forward to it.
"During spring break, we're traveling down to Florida and I think that will be a tough fight for us," Deswal said. "We are playing some good schools, some top ranking schools and I'm excited about it."