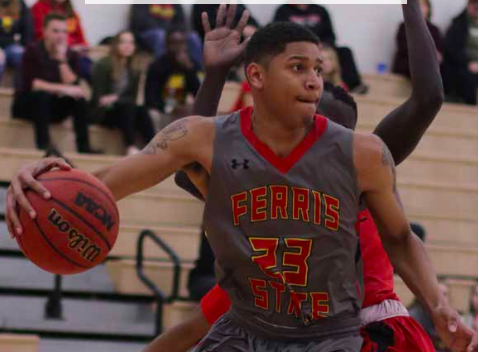 This week's Top Dawg title heads to the basketball court one last time in the regular season to Ferris sophomore forward Jaylin McFadden.
McFadden had his two biggest games of the season this week, with the first when the Bulldogs traveled to Purdue Northwest University and came back with a 83-69 victory Thursday, Feb. 21.
McFadden was responsible for 20 of the team's points, 10 rebounds, five assists and a steal. These results made it a career high game for McFadden.
The win brought the Bulldogs' record to 20-9 overall and 12-6 in Great Lakes Intercollegiate Athletic Conference play.
McFadden also performed well Saturday, Feb. 23, when the Bulldogs traveled to the Univeristy of Wisconsin-Parkside. He scored the game-high 14 points with three rebounds and four steals in the 66-59 loss to the Rangers.
McFadden has improved his season record to 316 points, 97 assists, 164 rebounds and 59 total steals and is averaging 10.5 points per game.
The Bulldogs head to Lake Superior State University and tip off 7 p.m. Thursday, Feb. 28, in the last regular game of the season.