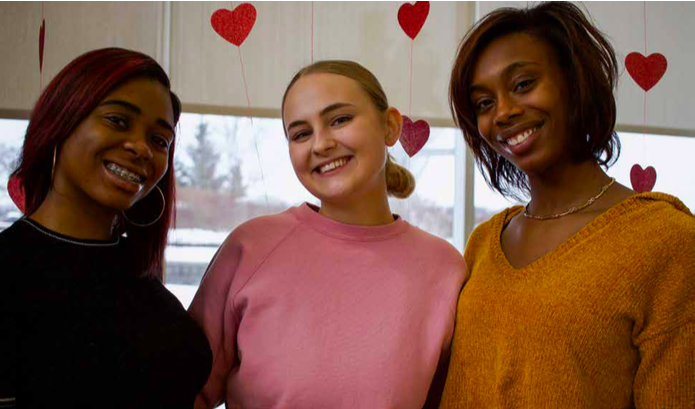 It's enough for Ferris students to afford tuition, let alone a brand-new outfit.
The Student Fashion Alliance at Ferris is bringing Thrifty Thursdays to campus. The registered student organization (RSO) will be selling clothes donated last semester, with prices ranging from $1 to $8 per item.
"As college students, I feel like our money is used more towards education, and I get surprised when people come and are in the high name brand stuff. Like, how did you afford that?" Ferris public relations sophomore Katie Gilligan said. "I think everyone has a standard that they want to reach as to having the nicest kind of clothes; that's just where people's mentality is."
Thrifty Thursdays will be held in the IRC Connector Thursday, March 21. The event was originally set to occur at the end of February, but the date was changed as a result of difficulties reserving a venue. Ferris public relations senior and Student Fashion Alliance President Kamry Morris hopes holding the event in the IRC will create more traffic.
The Student Fashion Alliance will have a variety of clothes available at the event, including business attire, jeans, hoodies and leggings.
Morris said the RSO wanted to show students they didn't have to break the bank to be able to afford a "fashionable look."
"Thrifty Thursdays was created with students in mind," Morris said. "We came up with the idea of collecting clothes and then selling them back as thrift items because as a generation, we tend to focus on worldly things. We tend to look at clothes as a status statement when they're really supposed to be for you to express yourself and express who you are as a person."
The Student Fashion Alliance currently consists of their six-member e-board. Morris said they plan on holding future Thrifty Thursdays, but there are no set dates.
"It brings a breath of fresh air to campus, and it gives students a different perspective on what fashion can be. You don't have to go to a high-end retail store to find a nice piece of clothing that can be used for a long time," Morris said.
"We were just inspired by making something out of nothing and the idea of that." The Student Fashion Alliance plans to use the money they raise to start a fund for their organization, such as to help put on fashion shows. Morris said if sales exceed their expectations, they will be looking to donate excess funds.
"I think it's a really good idea to open the minds of students to, 'Maybe I should donate my clothes to a better cause,' and really let go of things that are cluttering not only your closet, but your life," Ferris health administration freshman Madison Prusakiewicz said. "There are good deals everywhere, and I think it's really important to know that the things that you put on your body don't have to define you."