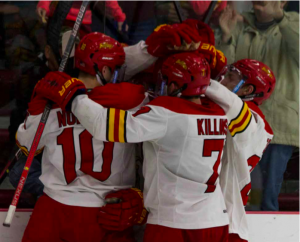 The Ferris hockey team's Western Collegiate Hockey Association playoff hopes are still alive after a three-point weekend against the Univeristy of Alabama-Huntsville Chargers, who currently hold the eighth spot in the conference.
Ferris remains at No. 9 in conference rankings after splitting the weekend with the Chargers, who now have 25 points. The Bulldogs have 21 points and will need to win both games against Lake Superior State University (LSSU) in the last regular season series in order to take the No. 8 spot from Alabama-Huntsville. But the Chargers cannot score more than one point in that scenario for Ferris to take the last postseason spot.
Ferris senior forward Corey Mackin said that, for the upcoming games, the team needs to focus on working together.
"We just kind of have to play as a team and just make sure that we are all together right there," Mackin said. "We felt we had a really good weekend this weekend so we kind of have to bring it into next weekend and just have a really good week of practice starting on Monday, come to work every day and just kind of have fun with it."
After losing 2-0 in the first game of the weekend series Friday, Feb. 22, the Bulldogs carved out more work for themselves. However, their chances were still alive after they took home the 5-2 win in the last home game of the season Saturday, Feb. 23.
The Bulldogs will travel up north to LSSU, needing to complete the hard task of getting two wins on the road. This is a feat Ferris have not achieved since the 2015-16 season when they beat University of Alaska-Fairbanks Feb. 5 and 6 in Fairbanks. The Lakers will bring a challenge to the Bulldogs, after handing them back-to-back losses Feb. 1 and 2 this season, outscoring Ferris 10-5. The Lakers currently have a 20-10-2 record and are fourth in the WCHA standings.
"Well, I think we will start with the first game first and we will worry about getting that win," Ferris hockey head coach Bob Daniels said. "Lake State is a very good team, they are as good of a team as we have played all year, they really are. We are going to have to roll on some pretty good hockey games and we know it. But we are not going to worry about going in there and winning two. We are going to worry about going in there and being the best we can be on Friday night, and then when Friday night is over, we will start worrying about Saturday on Saturday."
As for the Chargers, they have a tough weekend series against the Bowling Green State University Falcons in Bowling Green, Ohio, who have a record of 20-8-5 and are second in the WCHA.
In league play, each win is worth three points while anything that results in a tie counts as either one or two points. If the Chargers get at least two points on the weekend, the Bulldogs' chances drop to zero, even if the Bulldogs get six points. Both teams would have 27 points and be tied for eighth place, but the Chargers hold the tiebreaker over the Bulldogs.
If Ferris were to miss the conference playoffs, it would be their rst time in program history to do so. If they make it into the postseason, they would look to get their first post-season win since the 2015-16 season when they made it to the NCAA regional finals.