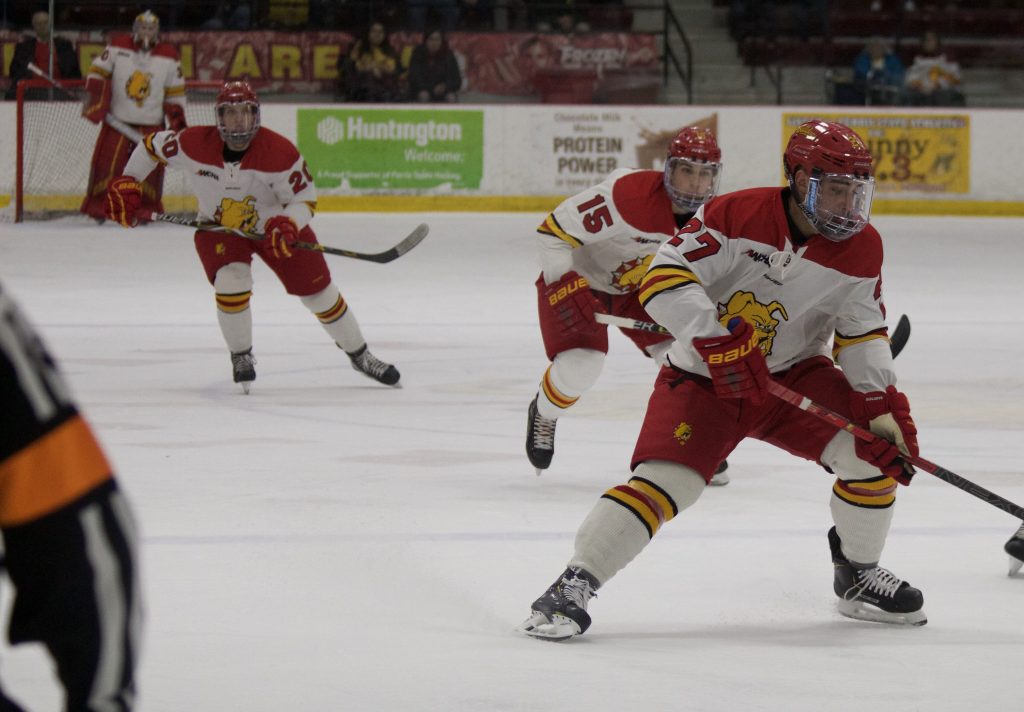 Ferris hockey, who finished the season with an overall record of 10-23-3, split their weekend series against the Lake Superior State Lakers.
After they took a 5-2 loss Friday, March, 1 in Taffy Abel Arena against Lake Superior State University, the Bulldogs were officially eliminated from Western Collegiate Hockey Association (WCHA) playoffs consideration, as they finished ninth in the conference standings. This marks the first time in program history that the Bulldog hockey team will miss the playoffs, with the University of Alabama-Huntsville securing the eighth and final spot Friday night.
What looked like a promising start for the Bulldogs Friday was quickly thwarted by the Lakers, as the Bulldogs got the first goal halfway into the first period, which came off the stick of Ferris sophomore forward Lucas Finner. This would be the only time the Bulldogs had the lead during the game. The Lakers were able to answer no less than two minutes later to make it a 1-1 game.
The Lakers were able to take the 2-1 lead early on in the second, but the Bulldogs tied it up once again as Ferris senior forward Corey Mackin scored his team-tying eighth goal of the season. The teams headed into the locker room at the end of the second period still tied at two, as playoff hopes were still alive.
Quickly into the final period of regulation, the Lakers broke the tie to retake the lead at 3-2, where they were able to maintain the lead while adding on two empty net goals to secure the win and eliminate the Bulldogs from playoff contention with a final score of 5-2.
Although postseason considerations were now off the table, the Bulldogs did not quit during the final game of the 2018-19 season, as they came back from the 5-2 loss and won the second game of the series 3-2 Saturday, March 2.
Mackin started the scoring off for the Bulldogs just five minutes into play, which was career point number 100 for the captain. Ferris freshman forward Jake Transit kept the puck moving in the second period to increase the Bulldog lead to two, with his fifth goal of the season. The Lakers were able to answer late in the second to cut the lead to one goal, but a last second goal by Mackin, his second of the night and tenth on the year, put the Bulldogs ahead by two once again.
The Lakers would tack on one last goal late into the third, but the Bulldogs were able to hang on to their lead and win their final game of their season.