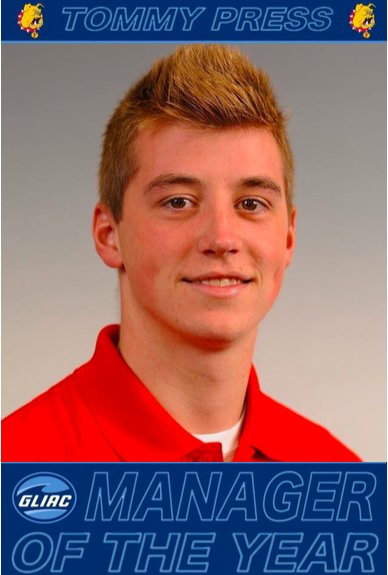 Ferris plastics engineering technology senior Tommy Press knew he wanted to be a member of a collegiate basketball team, and he accomplished that in a much different way than he probably imagined.
Press is the team manager for the Ferris men's basketball team and he credits his mother for pursuing the opportunity.
"Sending that email was one of the greatest things I've done in my entire life," Press said, "and without my mom, I probably would have never done it."
The success of a basketball team is not completely owed to the talent of the players; numerous staff members are involved from the ground up — coaches, trainers and even the team managers. This helps put in perspective the success from the men's basketball team at Ferris, especially since they had Press, who was 2017-18 Great Lakes Intercollegiate Athletic Conference (GLIAC) Manager of the Year.
In fact, Press is the only winner of GLIAC Manager of the Year in conference history. Of course, that may have something to do with the fact that he created the award for himself.
However, if you know Press, you'd know that it is an award that he deserves.
He isn't just that guy that sets up drills for practices, or makes sure everything from towels to snacks are ready for the players. He is much more than a person who makes sure jerseys and uniforms are ready for games and packed for road trips. According to Ferris men's basketball head coach Andy Bronkema, Press is "one of the guys."
"He's part of the family," Bronkema said. "He'll come back as an alum. We'll stay in contact, and hopefully he'll be coaching someday."
Press came to Ferris four years ago with a goal even he considered nearly impossible to achieve, and it was not be the team manager. He wanted to play on the court.
However, he was never recruited by the school, so he sent an email asking if there were tryouts. After being told of no spots available, he was asked to be a team manager.
"You know, lots of high school kids dream of playing college basketball, but not many of them dream of being the manager," Press said.
Despite his reluctance, he chose to accept the offer. However, that did not mean he wasn't nervous. Press was most nervous about hanging around all the guys who, in his own words, "were kind of huge."
"When I first met him at our welcome back barbecue, I had no idea who he was," Ferris junior guard Greg Williams said. "Then he was around when we had practices and we started talking a little bit. One day we were going to the Rock and Cole [Walker] told me to wait because we were going to go with Tommy. Ever since then, we just hit it off."
That could be considered quite an understatement, given that Williams and Press are now roommates and have been for a couple years now. In fact, they also live with Ferris junior center Cole Walker and Ferris redshirt freshman center Dylan Dankenbring.
Right now, the Press that was nervous when he arrived is nowhere to be seen, and has since been replaced by someone extremely comfortable hanging around the players.
A self-described "life of the party," he has been known to create memories both on and off the basketball court. The range of memories he has created for people spread from something simple like playing video games in the apartment all the way to the famous National Championship photo, which is a memory that will be remembered for a lifetime for all members involved, especially Press.
"It was crazy. It was really funny actually," Press said. "Right after we won it, we were all running around and nobody knew what to do. We were all freaking out. Then, this guy in a suit comes up to me and saw I was wearing a suit so he must have thought I was a coach, and he just handed the trophy to me. I didn't even know what to do with it."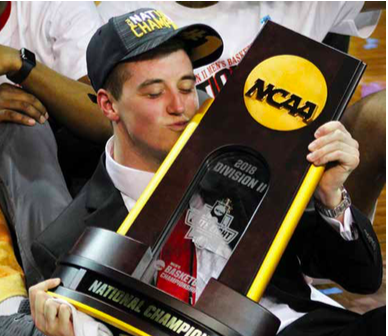 The photo hangs in Bronkema's office, and it speaks volumes when Bronkema said that it's just one of the memories he'll always remember about Press' role as head manager.
"I'd need more time to think about it all, but he produced so many funny memories, including a few that we'll keep in house," Bronkema said. "My goal is to stay in contact and to keep pressing him towards good things in his career. I look forward to see him rocking the plastics world when he gets a job in his field and we'll stay in touch."
Press is the team manager, one of the guys and a part of the family. For some, he's even a lifelong friend.
"He's one of my best friends. His personality is amazing. He just knows how to put a smile on your face and it just makes him so fun to be around. I'm glad that Ferris brought us together because I'll know Tom the rest of my life because of it," Williams said.
While Press didn't get the college basketball experience he dreamed of, he got the one he didn't know he needed.
"One thing I always say is that becoming a manager gave me an opportunity to do something I never saw coming," Press said. "I got to fall in love with the game of basketball in a whole new way."