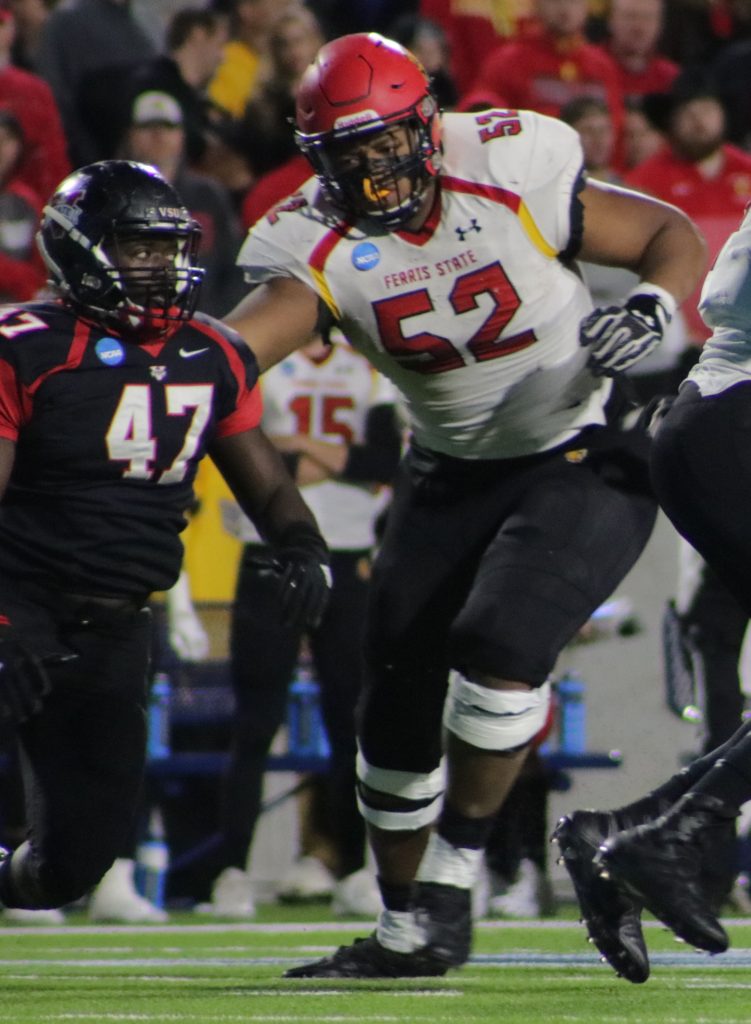 Less than 7 percent of high school players will play college football and the percentage of those college players who make it to the National Football League drops to 1.6 percent, according to the NCAA.
Former Ferris offensive tackle Devon Johnson has a chance to become part of that 1.6 percent after his performance at the NFL Combine Friday, March 1, to Monday, March 4, in Lucas Oil Stadium (Indianapolis, Indiana).
"Unreal," Johnson said. "You get to shake hands with coaches, general managers and scouts. It's like playing a video game."
Each year, 335 players are invited to the NFL Combine with hopes of impressing the representatives of the 32 NFL teams. The final goal is to impress the teams enough to be drafted in the NFL Draft that will be held April 25 to 27.
Most of the time, these players participating hail from the football powerhouses of Division I football, such as Alabama, Michigan, Ohio State and Oklahoma.
However, every year, a handful of players are invited out of the smaller schools of the college football landscape, whether it be from the Football Championship Subdivision or Division II.
This year, Johnson became the second player in Ferris football history to receive an invite, ending a 28-year drought for Ferris.
Johnson thinks he did the best he could to impress the personnel in attendance and felt that the experience was life-changing.
"It was such a special week," Johnson said. "I hit a PR with 26 reps on bench press, and I ran really smooth and felt smooth in the drills. I also got to talk with numerous reporters about how great of a football program Ferris has. Then I met with some teams and it was just a dream come true. All week, I just went out and did my thing because I was really comfortable knowing that it was just football."
Among Johnson's notable stats were his bench press of 225-pounds for 26 reps, which was 16th out of 47 offensive linemen; his 40-yard dash time of 5.16 seconds, which was 15th out of 38 offensive linemen; and his vertical jump of 27.5 inches, which was 25th out of 39 offensive linemen.
After spending five years on the Ferris football team, Johnson said he felt proud to talk about his team with those unfamiliar with the Bulldogs.
"It felt cool with everyone wondering about where Ferris was at and being able to explain how dominant of a team we were," Johnson said.
To get to the point of being able to boast about the success of Ferris football, it took quite a bit of hard work and lots of accolades for Johnson, especially after being overlooked in high school.
Despite starting just one varsity football game in high school in his home state of Illinois, he received a scholarship offer from Ferris. The offer came after he had attended one of the school's camps and Ferris football head coach Tony Annese instantly knew he wanted the 6-foot-7 player.
"Out of high school, he was just a big-bodied guy that didn't get a lot of attention," Annese said. "He came to our summer camp and I was immediately like, 'wow, look how big this guy is.'"
It was at that moment Annese thought that Johnson had a very bright future ahead of him, which resulted in offering Johnson a scholarship to come play at Ferris.
The predicted bright future came in waves for Johnson.
After redshirting his first year, Johnson was named to the Freshman All-American team in 2015.
He followed that up with three consecutive seasons of being an All-GLIAC honoree. In the 2018 season, he was especially successful, as he was named the 2018 GLIAC Offensive Lineman of the Year and was an All-American.
Throw in the fact that he concluded his career at Ferris with a school record of 51 consecutive starts on some of the best football teams in Ferris history, and it added up to him earning an invite to participate in the NFLPA Collegiate Bowl.
After he flipped a solid performance in that exhibition into an invite to the NFL Combine, Johnson put NFL coaches and general managers on notice with some good moments in Indianapolis.
As for the experience, a former teammate of Johnson thought it was well-deserved based what he brought to Ferris during his career.
"From my perspective, being a younger guy, he was a leader," Ferris junior slot receiver Davontae Harrington said. "He always came to work ready to go. I always compare people like him to LeBron James. He always comes in and puts in that hard work. He has that drive and that grit to be great at the next level."
On Johnson's performance, nothing surprised his former coach, as Annese even predicted his big performance on the bench. As for what the performance means going forward, that is something Annese said he could not predict.
"I hope he is [drafted]," Annese said. "I never really know whether or not someone is going to be drafted. Making the NFL combine is a big help towards making that occur though, and I'm hoping he's the second Ferris State Bulldog drafted and the second in two years."