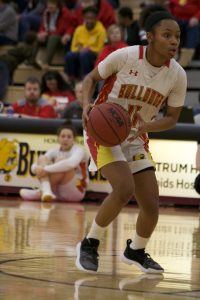 For the first time in five years, the women's basketball team finished with a winning record, despite getting knocked out of tournament play.
The Ferris women's basketball season concluded Tuesday, March 6, when they fell to Northern Michigan University (NMU) by a score of 65-51 in the quarterfinals of the Great Lakes Intercollegiate Athletic Conference (GLIAC) Tournament.
The Bulldogs, who finished the season with a 14-13 record, finished the year with a winning record for the first time since the 2011-12 season.
Ferris fell behind early in this one in the Marquette Berry Events Center, as the Wildcats raced out to a 14-8 lead after the first quarter.
The Bulldogs managed to pull ahead entering halftime, as they led 32-30 at the break behind eight points from Ferris junior center Brayene Benner.
In the third quarter, the Bulldogs managed to pull away, leading by as much as 10 in the quarter. However, that was when the Wildcats made their run. They came all the way back before the end of the third quarter and managed to tie the score at 48-48 heading into the final quarter.
At that point, it was all Wildcats as the Bulldogs managed just three points in the fourth and simply couldn't buy a bucket. With the win, NMU advances to the semifinals of the GLIAC Tournament to play Grand Valley State University.
In this one, the Bulldogs were led by Ferris sophomore guard Adrienne Anderson, who scored 12 points. Benner and Ferris junior guard Riley Blair each finished with eight points apiece. Other than winning the turnover battle eight to 15, the Wildcats had an advantage in almost every other major category. What stands out the most is NMU's work down low, as the Wildcats held a 30-14 advantage in points in the paint and outrebounded the Bulldogs by a margin of 41- 23.
The Wildcats were led to victory by NMU junior forward Jessica Schultz, who had 19 points to go along with 13 rebounds and three blocks. The team shot just over 45 percent from the floor.