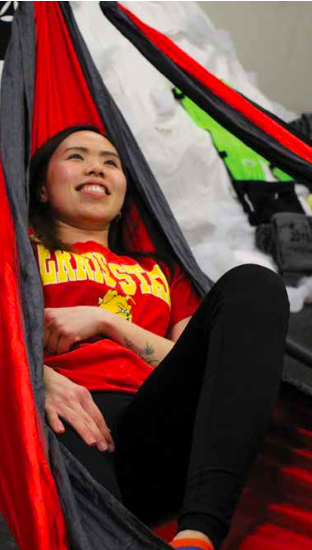 The Ferris Outdoor Club spent Thursday, Feb. 28, at the Student Recreation Centre (Rec) promoting the opening for their new gear rental store.
Located in the Rec, the gear rental store will offer students the opportunity to enjoy the outdoors and learn a little more about the Outdoor Club itself.
"Our big rule here is we accept anyone that loves the outdoors," Ferris mechanical and product design engineering junior and Outdoor Club community service chair Jeffery Maddison said. "Whether you're into hiking, fishing, camping, backpacking, kayaking, whatever your thing is, it's welcome here."
During this event, students played giant Jenga, created their own trail mix, and participated in various drawings and giveaways. There was also a paracord bracelet and keychain making station.
Ferris adventure coordinator Jayna Wekenman oversaw the opening and hoped this rental store will make adventure more affordable and encourage students to explore the surrounding area. This store will also give visitors the opportunity to "test" products by renting them instead of buying them.
Along with planning events, the Outdoor Club manage their own trips and spend time helping their community.
"The big thing is we try to plan a lot of events. We do a lot of hiking, backpacking, camping, stuff like that. We try to do a little bit of community service type stuff," Maddison said.
The Outdoor Club strives for everything and anything with the outdoors, while at the same time educating their members on sustainable recreation and respectful use of natural resources, according to Maddison.
One group they interact with most is the Muskegon River Watershed Assembly (MRWA), where they do a lot of volunteer work, collecting macros vertebrates out of rivers and watersheds for MRWA to research. The Outdoor Club helps MRWA in preserving, protecting and restoring the Muskegon River.
While Maddison enjoys spending time with club members, Ferris pre-optometry senior and Outdoor Club secretary Bethany Riess likes the relaxed environment the club has to offer.
"You just come and relax and do stuff. It's not like you have to be here for this and that all the time. It's not overwhelming, it's just enjoyable," Riess said.
As well as community service opportunities, the Outdoor Club will plan different types of trips for club members, including spring break trips. In 2018, members went to Kentucky to visit the Mammoth Caves with a researching biology professor. Club members helped with research and were able to enter caves not accessible to the public.
While it's harder for the group to do things outdoors in the winter, the Outdoor Club still tries to find activities for their members to participate in. The weekend of Saturday, March 2, members went to Fort Custer to rent out a cabin, go ice fishing, hike and make igloos.
"We like to do whatever we can outdoors. The Outdoor Club is for anyone who likes to adventure, regardless of their level of skill or experience. We want to help people learn more ways to enjoy our natural resources in a respectful and sustainable way,"Riesssaid.
For more information about the club, visit their Orgsync page or go to their meetings 11 a.m. Tuesdays in the Card Wildlife Education Center.