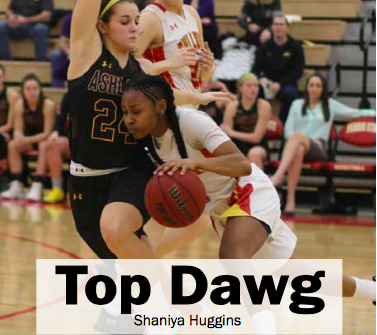 The Top Dawg honors for this week belong to Shaniya Huggins, a sophomore guard on the Ferris women's basketball team.
Huggins had a breakout game against Lake Superior State University (LSSU) Thursday, Feb. 28. Her performance helped pave the way for a 68-59 victory by the Bulldogs. The win pushed the team's record to 14-12 and 11-9 in conference play.
While Huggins wasn't all that pleased with her defensive performance, she was much happier about her game on offense.
"Individually, I think I made some shots were important for our team down the stretch," Huggins said. "I got out in transition, which is something our team loves to do because it is very hard to guard. But, there is always room for improvement."
Huggins was the catalyst on offense for the Bulldogs in this one, as she had 18 points on 8-15 shooting. She also made one of her two three-point attempts and helped in setting up her teammates, as she dished out five assists.
On defense, Huggins was pretty active, despite her saying that she "should have stepped up more" on that side of the floor. She collected six rebounds, all of which came on the defensive glass, and also added in a steal.
For some perspective, Huggins has played in 22 games this season and is averaging 9.7 points per game, along with 5.3 assists per game. Huggins also averages 3.4 rebounds and 1.7 steals in 29.7 minutes per game.
The 18 points scored by Huggins now sit as her fourth-highest scoring output on the season, while the six rebounds match her second-best total of the season.
The win extended the team's winning streak to three games and allowed them to complete a two-game sweep of LSSU in the regular season.
Huggins was also selected as the Great Lakes Intercollegiate Athletic Conference (GLIAC) North Division Player of the Week for the second time during the 2018-19 season.