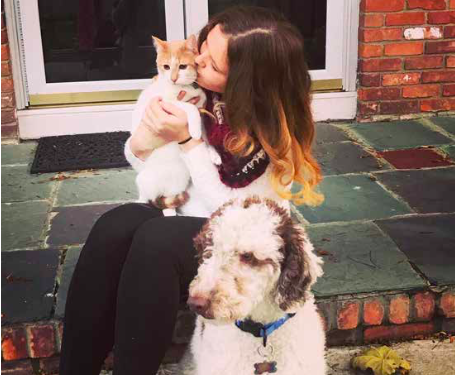 What started off as a requirement for the Ferris honors program has now evolved into a love for volunteering.
"I fell in love with it," Ferris pre-pharmacy junior Erica Foote said. "I volunteer because I think that it's important to give back to the community and it's good for your soul. I really like giving back and helping other people. If I ever see anyone else having problems, I always like to help them out, so for me, volunteering is the same way."
Foote picks up weekly shifts on Wednesdays at the Animal Rescue Coalition (ARC) of Mecosta County, located in Big Rapids, and fills in whenever they need an extra hand.
"Volunteering not only benefits me but as well the dogs. The dogs there are amazing. It doesn't feel like work or typical volunteer community service work. I have fun doing it and I enjoy it," Foote said.
Ferris advertising/integrative marketing communications senior Erin Patten works with Foote at the Center for Leadership, Activities and Career Services (CLACS) office and first met her two years ago when they worked together as orientation leaders.
"She's a very positive, upbeat and motivated person, and she does a lot of volunteer work, especially with ARC," Patten said. "She loves the animals there, and she'll wake up at 6 a.m. on Saturdays to walk the dogs."
Though it's one of her passions, ARC is not the only place where Foote volunteers. To find other opportunities to help out, she will look on the Volunteer Center website.

"I see something pop up on the volunteering page that looks like something I'd like to do, I'll sign up and go do it. I like to do that about once a month or so," Foote said.
The Volunteer Center is a resource available to all students that provides opportunities to give back to the community while meeting new people.
Ferris Career and Volunteer Center Coordinator Michele Albright met Foote when she was originally looking for volunteer opportunities.
"I think it is amazing that she has been able to provide service in a way that is meaningful for her," Albright said, "Anyone that knows her knows that she loves animals and helping at ARC has been a great fit."
Albright also stresses the importance of volunteering and how useful it can be to any student.
"Volunteering is not hard, does not have to be time consuming and can be fun," Albright said. "Plus, it is greatly needed and appreciated. Many service organizations would not be able to operate without the contribution of caring volunteers."
The CLACS Volunteer Center provides listings of opportunities for students to enrich their lives and education through the services on campus and in the community. The Volunteer Center also provides an opportunity for students to record their co-curricular experiences and receive recognition of their efforts.
For more information on how to volunteer, you can look at news posts on OrgSync, or contact the CLACS office at CLACS@nullferris.edu.