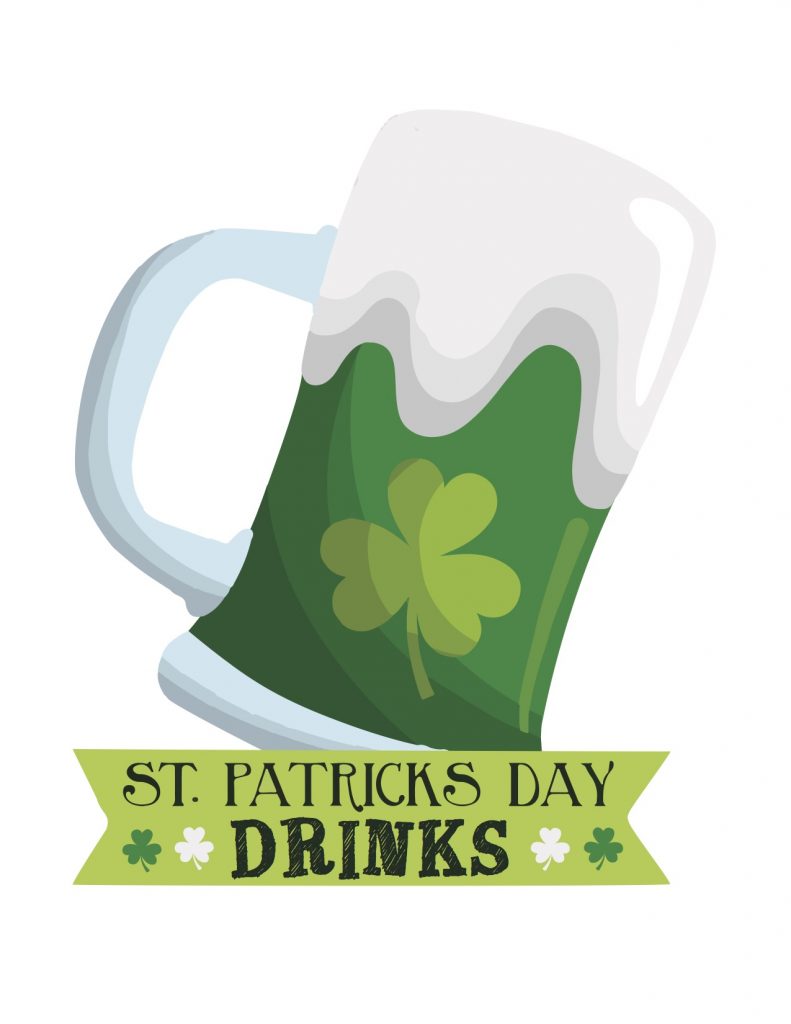 Irish Hammer
1 part Jack Daniels
1 part Irish Mist
1 part Irish cream
Instructions: Fill a cocktail shaker with ice and pour in the liquors, shaking until chilled. Strain into shot glass.
Fuzzy Leprechaun Cocktail
1 oz. peach schnapps
1 oz. Blue Curacao
1 oz. vodka
1/2 oz. orange juice
1/2 oz. pineapple juice
Orange or cherry for garnish
Instructions: Combine ingredients in a shake with ice and shake. Strain into glass and add garnish.
Green Apple Sangria
1 bottle (750 ml) white wine
1 bottle/can (12 oz.) ginger ale – can substitute with champagne, club soda or sparkling water
1 – 2 large granny smith apples
Instructions: Slice apples into thin slices or smaller, given glass size. Add apple to bottom of a pitcher and fill with wine and ginger ale (or substitute). Place in refrigerator and serve cold.
Whiskey Sour
Sour mix:
1/4 cup fresh squeezed lemon juice
1/4 cup sugar
1/2 cup water
4 maraschino cherries
4 teaspoons maraschino cherry juice
Instructions: Combine lemon juice and sugar. Add water and stir until sugar is dissolved. Add 4 teaspoons cherry juice from the jar. Pour one jigger (1 ½ ounce) whiskey into two ice filled glasses.
Shamrocked Shooter
2 oz. Midori melon liquor
1/2 oz. Tullamore Dew Irish Whiskey
1/2 oz. Carolan's Irish cream liquor
Ingredients: Pour ingredients into cocktail shaker filled with ice. Shake well and strain into shot glass. Serve.
Recipes courtesy of mixthatdrink.com, tammileetips.com, madewithhappy.com, geniuskitchen.com and thespruceeats.com.