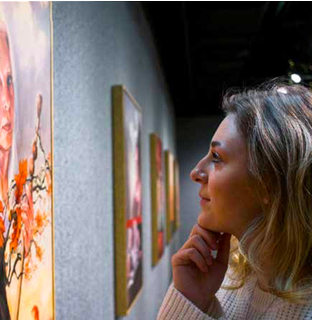 Students are instantly greeted by a collection of voices from empowering women upon walking into the Fine Art Gallery at Ferris.
"This particular series is meant to highlight the value of women in general, but mature women specifically," Kendall College of Art and Design alum and director of the Golden Apple Studio artist Shelley Newman Stevens said. "The portraits that you see here are not traditional ways of portraying women, but rather they are meant to highlight the value that a mature woman brings to our culture. These women are not the object of the art but are instead the subject."
An Army of Women debuted Friday, March 1, in the University Center as part of the 2019 celebration of Women's History Month.
Revealing women as strong, intelligent and courageous, the exhibit portrays 12 real women Stevens believes deserve recognition for the struggles they have gone through.
"Everlasting," which is one of Stevens' favorite pieces, centers around a woman who lived through a harrowing stem cell transplant almost a year ago. In the painting, there is a list pinpointing her journey and the steps she had to go through.
"Stem cell transplants are pretty vicious, but it was the one way to save her life and she endured it. She was an incredibly courageous woman, and that particular portrait is my way of honoring her," Stevens said.
By bringing this exhibit to Ferris, Ferris museum and gallery curator Carrie Weis hopes students become inspired by this series.
"I hope students can look at the women in their own lives who have inspired, fought and helped them be who they are today," Weis said.
As well as the meaning behind the art, Ferris digital animation and game design freshman McKinley Carpenter enjoyed being able to see the differences in the physical art versus digital art.
"I always find it so interesting to see how traditional artists do the things that they do," Carpenter said. "In my program, I work a lot with modeling and 3-D objects, and it's a completely different process from painting. Being able to see the different layering of the paint and the different physical elements you can add is so amazing."
Carpenter's favorite piece, "Life, Loss and All That Jazz" featured a woman layered onto the portrait three times. It showed her going through the motions of life. He enjoyed the different layering on the portrait and being able to see the intricate brush strokes.
An Army of Women was curated in collaboration with the Museum of Sexist Objects and the Office of Multicultural Student Services.
The exhibit will be on display in the Fine Art Gallery in UCB 205 until April 6. For more information, visit ferris.edu/gallery. To see more work by Stevens, visit her website at goldenapplestudio.com.