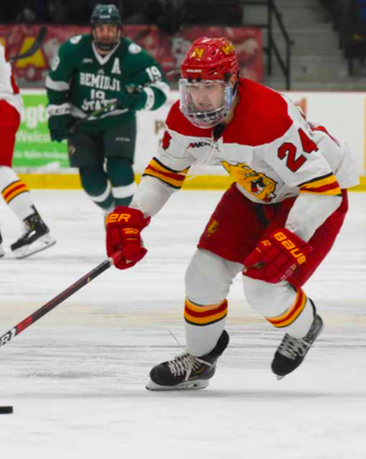 CORRECTION: In the original version of this article, it was mistakenly said that Craig Pefley had not played in the Eastern Collegiate Hockey League at publication time. In fact, Pefley made his debut the same day as Corey Mackin and Ryker Killins, Saturday, March 9. The article has since been changed to reflect this.
—
Playing a professional sport is a dream for many and four Ferris hockey players have made this dream a reality this spring.
Seniors Corey Mackin, Craig Pefley and Ryker Killins joined the professional ranks in the Eastern Collegiate Hockey League (ECHL) and freshman Cooper Zech signed with an American Hockey League (AHL) team.
Ferris hockey head coach Bob Daniels said he's happy for all his players and one of their goals in the program is to teach the players how to become professionals.
One of the biggest things you have to learn when you walk in the rink for practices or games is that you have to flip the switch and then any worries you may have need to be left at the door," Daniels said. "You're in college, if you're having issues in school, in class and you feel a little overwhelmed, you've got to just check that at the door, come in here and you need to concentrate 100 percent on hockey. Then when you leave the rink, you need to check hockey at the door and pick up your life and not worry about if things aren't going great with hockey. You can't let that affect the rest, like your schoolwork. And the reason I think that's important to becoming a pro, is when you become a professional, you've always got outside pressures, too."
Mackin, who is playing as a forward for the Reading Royals in Pennsylvania; Killins, who is now a South Carolina Stingray defenseman; and Pefley, who is playing with the Tulsa Oilers, have all seen action already in ECHL play, each making their debuts Saturday, March 9.
Killins has scored two goals and two assists for the Stingrays in his seven games played and Mackin had an assist in his first of four games on the ice. Zech has yet to see the ice with his team heading toward postseason play.
Pefley said watching teammates over the last four years go onto professional play inspired him to want to play at the next level.
"The guys that have moved on and played professionally before me were certainly an inspiration for me. Guys like Simon Denis, Ryan Lowney, Jason Binkley, Mitch Maloney have shown that there was an opportunity in pro hockey if you worked hard enough, and to have those guys talk to you about what they've experienced where they played and how they got accustomed to it was just another benefit that I saw," Pefley said. "Seeing the joy they got out of playing the game was one of the main reasons I chose to go this route."
Pefley scored 41 points in his career at Ferris and was the first player since 2016 to have multiple four-point performances in a calendar year. One of the challenges Pefley foresees in transitioning to the ECHL is the competition.
"The toughest part from going from the WCHA to ECHL level of hockey has to be the size and speed of the players. For the most part in college you will be playing guys that may be four years older than you, but in this league there are men on the ice that could be 10 years older, and more accustomed to the league. As with every progression in hockey, the speed and size of the guys you play against will ramp up as well which can be tough to get used to at first," Pefley said.
Killins hit the ground running in South Carolina and according to his Ferris defensive partner junior Joe Rutkowski, Killins was a player he could trust on the ice.
"I played with him this year. Unfortunately, he got an injury earlier in the year, so he was out like all the year, but he came back strong. I played with him two years previously to that and he came back strong from this injury and made an impact and was lucky to see some interest from pro teams and was able to sign, so I think that speaks to the type of player he is," Rutkowski said. "Individually, highly skilled on the ice and it's just comfortable to have him as a D partner. If there's a play that needs to be made, he can make it."
Daniels has never been shy about his emphasis on his players' academic performance and said he had conversations with each of his seniors before they left to make sure they would still graduate this spring.
"My thing is: degree trumps everything. Get your degree, then pro hockey will be there next year. If you were to stay in school and finish up your classes I'm always all for that." Daniels said. "But the number one thing is you have to get your degree, I'm just adamant about that."
While he has just accomplished his longtime dream of making it professionally, Pefley realizes that he can't play hockey forever and said he's grateful he has his degree for when his hockey career is over.
This makes Zech an anomaly for Daniels. The 20-year-old only completed one year of school at Ferris while the rest of the signed players are seniors and will still get their diplomas.
With these four signees, Ferris now has 28 former players active in professional leagues.