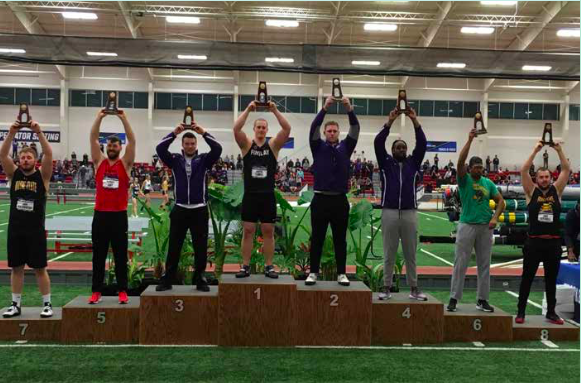 Not all athletes get to stand in the spotlight and not all sports garner the same amount of attention, but Ferris senior thrower Cody Stilwell is making his way into the limelight.
In fact, Stilwell finished eighth in the hammer throw in the Division II Indoor Track and Field National Championships Friday, March 8. It was the second straight year that he earned Division II All-American honors.
"The experience is unreal because you're finishing as one of the top eight athletes in Division II for your event," Stilwell said. "Last year, I got fifth place for my first First Team All-American award at outdoor nationals and yet I had an empty feeling in me like I didn't compete the best. This year I left it all out there and went for broke. The feeling of hearing my name called off for eighth place this year brought chills to my body and I had to hold back tears of joy."
For Stilwell, the experience felt different this time and is one he will remember for years to come.
"This finish means the most to me in my career thus far," Stilwell said. "I'll remember this as the best finish for me mentally at this point in my track and field career."
Stilwell came to Ferris five years ago from his hometown of Cadillac. After initially receiving no offers from colleges to continue his throwing career, he took the initiative and started to reach out to colleges himself. Larry Levine, the current throws coach for the Ferris track and field team, was the only one who responded. Fast forward to now, and seems like it has worked out well for both parties, perhaps better than either of them could have imagined back then.
"It was really a sort of mutual interest," Levine said. "I had recruited players from his school before and knew his high school coach. He wasn't a blue chip guy but he was someone who seemed dedi- cated and those are the type of athletes we want here."
According to Stilwell's roommate, Ferris sophomore thrower Trevor Roznowski, it has to do with Stilwell's drive and dedication to be the best thrower he can be.
"Cody eats, breathes and sleeps throwing," Roznowski said. "He is a true student of the game and spends each day trying to improve. Throwing is his life. I feel fortunate to have been able to soak up a vast amount of knowledge he has of the sport because this is what truly sets him apart from his fellow competitors."
And it has set him apart, at least, enough apart in order to become a two-time All-American.
But for Cody, his story is not done quite yet. He still has one more season of outdoor track and field, and he is driven to achieve lofty goals as it nears.
"My career isn't over yet," Stilwell said. "I hope to make on more big appearance in outdoors this year in the hammer throw and hopefully contend for a national title in the event. After that, I'll continue on with hammer as a professional athlete and try to make the 2020 and 2024 Olympics."