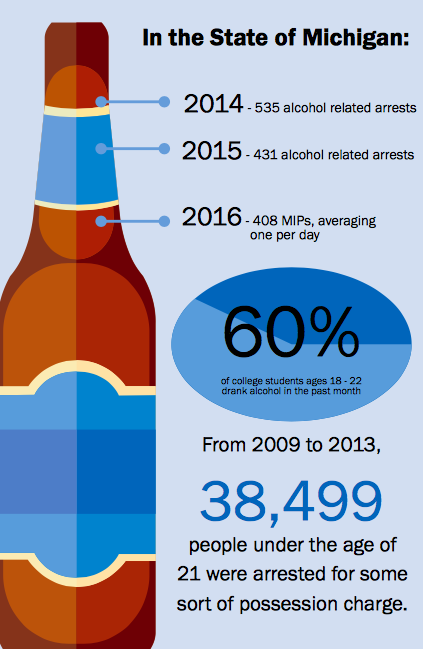 Many college students choose to go to parties and drink underage, but fail to consider the consequences. A minor in possession (MIP) is considered a civil infraction in the state of Michigan. Though recent changes to the law have severely reduced consequences, Ferris students should still be aware of what a MIP means for their future.
"I know so many people that have gotten MIPs," Ferris television and digital media production sophomore Lacie Stevens said. "Usually it's a party that got busted and they tried to run, and the cops caught them."
According to The Detroit Free Press, the most recent Michigan State Police statistics from 2009 to 2013 reported more than 38,000 minor-in-possession arrests during the four-year time frame.
"A lot of students are very irresponsible about it," Stevens said. "A lot of people are like 'Oh, I can drink as much as I want, it doesn't matter until I graduate.' That's extremely unhealthy."
A recent amendment to the law reduced court consequences by classifying the first offense as a civil infraction instead of a misdemeanor, which took effect October 2017.
Repercussions now include fines starting at $100. Big Rapids Department of Public Safety (BRDPS) Sergeant Elizabeth West compared getting a MIP to a traffic ticket. A student will usually have to go in and pay a fine.
The infraction is posted on your driving record, but unlike a traffic ticket, it won't affect insurance prices. In addition, substance abuse treatment and community service may be required. Changes to the law also removed any jail time for a first offense.
"For a minor in possession of alcohol, depending on what job you're going for, I don't think that it would have devastating results," West said. "It's not like you have a criminal history now because of it. It's not like you were convicted of assault or something. It's different."
Ferris digital animation and game design junior Cameron Zeter said he could understand underage drinking if it's due to family custom or heritage, but he doesn't support underage kids going out to get drunk.
"Just go and wait until you're 21 instead of doing it now. Then you won't have any repercussions," Zeter said.
According to West, since Sept. 1, 2018, BRDPS has issued 37 minors in possession citations. Of the 37 issued, eight were second offenses and two were third offenses.
Trouble starts brewing when there are repeat offenders. A second offense is considered a misdemeanor and brings about harsher consequences. Fines start at $200, with a 90-day license suspension. In the case of a second or third offender, employment opportunities may be affected.
According to West, the officers write tickets when issuing an MIP and do not arrest the offenders.
"If you get convicted, or you get your second or third MIP, you've technically been arrested for a misdemeanor. You just didn't go to jail," West said. "Somebody may have to tell their employer; be honest."