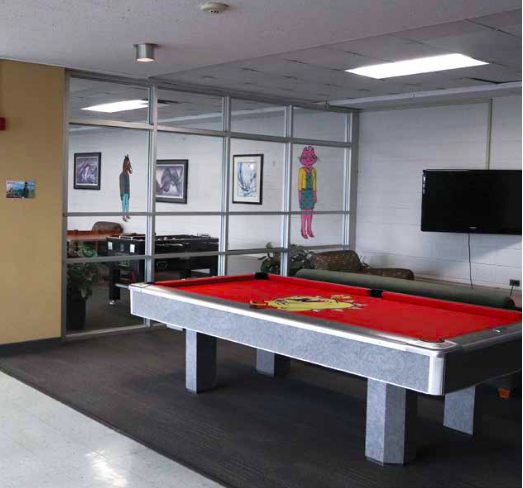 The Fall 2019 semester will be a fresh new start for students and the start of a fresh new look for several residence halls.
Select Ferris residence halls will be getting a summer makeover, as the Board of Trustees approved a $1,000,000 proposal for renovations Feb. 22.
"The plan is to have these improvements made this summer so that they are in place for students when they return in August for the start of the fall semester," Ferris Vice President of Administration and Finance Jerry Scoby said.
Cosmetic changes, such as painting and the replacement of furniture, will be focused in the lobby areas of the residence halls.
Resident rooms and public spaces will be painted in Clark Hall and Hallisy Hall. The lobby areas in Brophy-McNerney Hall and Bond Hall will be painted and receive new flooring, lighting and furniture, Scoby said.
Students living on campus will also benefit from stronger Wi-Fi with $135,000 of the project budget being reserved for wireless service improvements.
"The Wi-Fi is a much-needed improvement, I think, so that's really good. As for the other stuff, like the updates with furniture and paint and carpeting and stuff, I think that would be good just for improving the standards of living in the dorms, because they're all pretty old right now," Ferris pre-pharmacy sophomore Emily Hamlin said.
Although the lobby renovations will only be made to select residence halls, the Wi-Fi enhancements have the potential to be implemented in other on-campus housing facilities.
"We are still finalizing the locations for the Wi-Fi improvements. Some of these could be in the same halls, but part of the scope of work may be in other on-campus housing facilities. All of the enhancements will be in our housing for students," Scoby said.
Several students recognize the benefit of the updates, even if they do not live in the residence halls that will be experiencing the changes.
Ferris pre-pharmacy senior Steven Chappelle lives in Cramer Hall but said that the improvements are a positive investment for the school.
"If it's positive for the school and brings more kids on campus, then I think it would be a good investment," Chappelle said.
Ferris forensic biology freshman Elizabeth Kuhns lives in Brophy Hall and is looking forward to the changes.
"I know Brophy looks, I guess, pretty old and not updated. I think it will look a lot nicer and newer with all the new paint, carpet, furniture and stuff," Kuhns said.
Scoby and other administrators hope the improvements will make students feel more at home on campus and let them know their voices are being heard.
"From student feedback we have received year after year, the Wi-Fi service is typically the highest priority for students. We know any enhancements we make in this area will be a direct benefit for our residents. The additional improvements will also be noticeable upgrades to our facilities that our residents call home throughout the academic year," Scoby said.