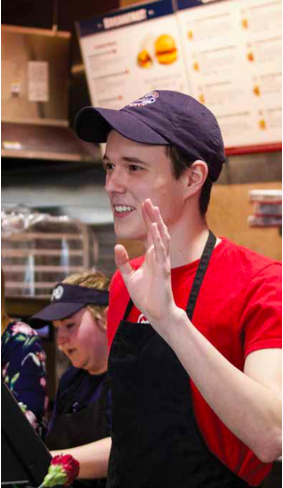 Starting Sunday, March 24, minimum wage on campus increased from $9.25 to $9.45. The increase won't be adapted statewide until March 29, but Ferris decided to implement it a few days early so they wouldn't disrupt student employees' pay period.
"I'm happy that it's increasing because it could be beneficial, but I'm worried and anxious to see what consequences may come as a result to the increase of minimum wage," Ferris political science junior Charnice LaGrone said. "It's bittersweet."
LaGrone, a student employee at the Center for Leaderships, Activities and Career Services, said she knows even a small increase in minimum wage can be beneficial to those who are struggling, but she is concerned about the possibility of the cost of living increasing along with it.
Ferris student employment and financial aid adviser John Randle said the increase is not across the board. Students who are already making $9.45 will not see an increase in their wages unless their supervisors decide to initiate it.
Students can still expect to see an increase in minimum wage every year. Michigan law has minimum wage set to increase to $12 an hour by 2030, initiated by a series of slight raises every January.
"Most of our students are making minimum wage right now, so they will see an increase in their paychecks. It's so close to the end of the semester, it's probably not going to make a huge difference for their overall annual income, but it will really affect the students that are working in the summer and coming back next year," Randle said.
Ferris data analytics senior Haven Chane, a student employee at the University Center information desk, said although it would be nice to raise wages for students who are paying for colleges expenses themselves, she believes that student employees are paid fairly.
"At this point, it's really not that big of a deal for me. I know once I graduate and I actually get into my career, I'm obviously going to get paid more," Chane said.
Chane said she thinks minimum wage affects the economy more than it affects individuals, because most people are paid above minimum wage.
Among a flexible schedule and getting to know people around campus, Randle said a beneficial aspect of being a student employee is not having social security tax taken out of your paycheck.
"There's no FICA [Federal Insurance Contributions Act] tax taken out – which is 7 percent. Say you worked across the street at McDonald's, they take that security tax and they take that out. If you're a student, you're exempt from that. If you're making $9.45 on campus, that's probably the same as making $10 an hour off campus," Randle said.