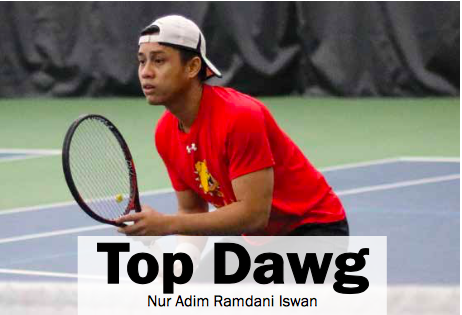 This week's Top Dawg was an ace over the weekend and is awarded to Ferris men's tennis senior Nur Adim Ramdani Iswan.
The Bulldog men's tennis team traveled to the Michigan's northern peninsula to begin Great Lakes Intercollegiate Athletic Conference (GLIAC) play with their first match Saturday, March 23, against the Michigan Tech. University Huskies. The following Sunday, March 24, the Bulldogs would remain north but a little closer to home as they faced the Lake Superior State University Lakers. After the weekend, the Bulldogs were able to start conference play undefeated and go 2-0 on the weekend.
A standout player for the Bulldogs was Iswan. Competing on both days and in both the doubles and single categories, Iswan did not drop a single set and beat his opponents with a game score of 26-15 during single play between Saturday and Sunday. Iswan and his doubles partner were also able to get the job done on both days and win their sets 6-3 and 6-4.
Iswan was a contributor during the last match the Bulldogs won, which was Saturday, Feb. 23, against Tiffin University (Ohio). Competing in both singles and doubles, he was able to win two straight single sets as well as winning his double set, which gave Ferris their second win.
With the Bulldogs coming off a tough spring break, as they lost four matches in a row, Iswan and the team have set track in the right direction, especially with the start of conference play. The Bulldogs now sit with a record of 4-8 with six more matches to be played.
The Bulldogs are home Friday, March 29, to take on the Northwood University Timberwolves.