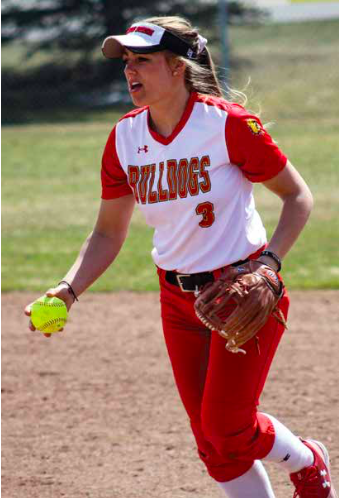 The win-loss column for the Ferris softball team is leaning in the wrong direction, but the players are confident in their ability to turn the season around.
The team currently sits at 10-14 overall and 1-3 in Great Lakes Intercollegiate Athletic Conference (GLIAC) play just less than two months into the 2019 season.
The season's start, which included a four-game winning streak followed directly by a three-game losing streak, has been quite the roller coaster ride for the Bulldogs.
While most teams would be frustrated after such a trying start to the season, the players on the team seem pretty encouraged with how they have been playing.
"If someone were to just look at our record, they might not think we have had a great start to the season," Ferris junior first baseman Sawyer Wightman said. "However, we have played some really great competition to start out the year. So although our record might not be .500, we still have played some really great games."
That is an optimistic outlook for a team less than .500, but they will have the opportunity to turn their season around as they enter conference play.
However, there are a few things that have gone poorly in the early portion against that stiff competition. For starters, the pitching hasn't been all that great in the non-conference schedule. The Bulldogs have a team earned run average of 4.13, which ranks 165th in the nation. They also rank 186th nationally in fielding percentage at just .947 and 155th in team batting average at .276.
While these numbers certainly don't look very good, the Bulldogs will look to two players in particular to turn things around, although they have multiple others who are capable.
"When we all play together, which includes every single one of us on and off the field, we are incredible," Ferris senior shortstop Logan Fleming said. "I am proud of the way we stand out as a team when we do this."
Speaking of Fleming, she is one of the two players who has led the team this season. For 2019, Fleming leads the team several categories. She leads in batting average with .419, an on-base percentage of .427, a .568 slugging percentage, 31 hits, 15 RBI's, four stolen bases and 35 fielding assists.
The other player that has helped lead the Bulldogs, and will hope to lead the team's turnaround, is Ferris sophomore second baseman Kodi Ramirez, who is tied for the team lead with four stolen bases, eight doubles, two home runs and 10 extra base hits.
Their performance will surely have a great impact on how this team finishes, whether that be for better or for worse.
The players are confident they'll be a team to watch in the GLIAC this spring, especially Wightman.
"We definitely are ready for conference play to start up and show the GLIAC the talent and drive our team has this year," Wightman said.