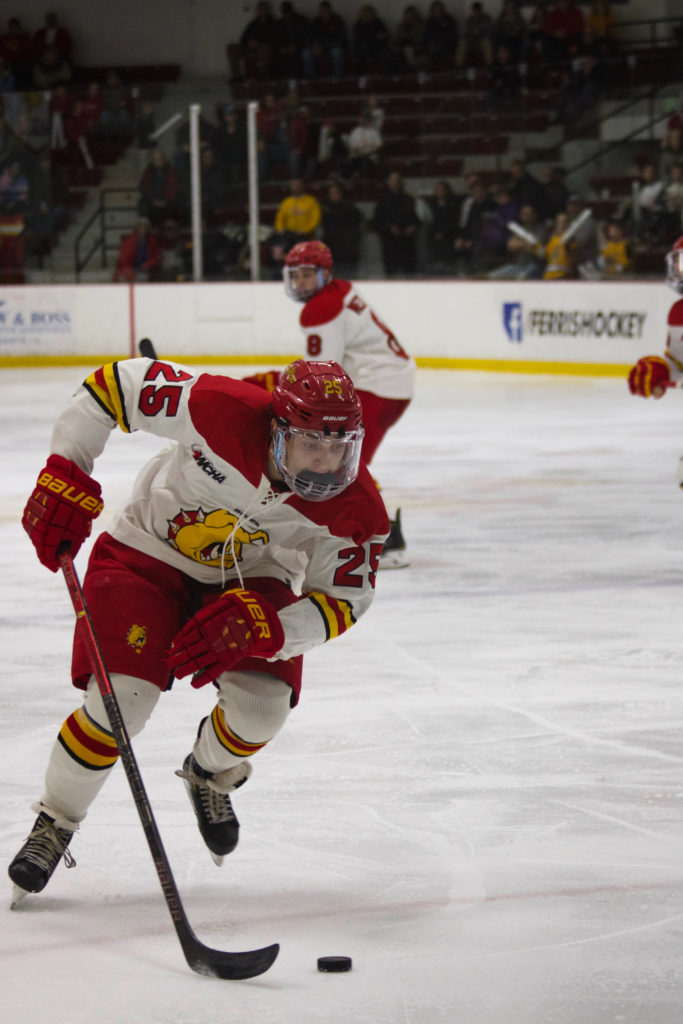 It was no secret that Ferris freshman defenseman Cooper Zech was a talented player when he walked through the doors of Ewigleben Arena.
The Western Collegiate Hockey Association (WCHA) Preseason Rookie of the Year's college career came full circle when he received WCHA Rookie of the Year, First Team All-League and First Team All-Rookie at the end of the season, which Ferris head hockey coach Bob Daniels considers to be three major awards. Zech signed with the Providence Bruins (Rhode Island) in the American Hockey League (AHL), the National Hockey League (NHL) affiliate of the Boston Bruins, at the end of the 2018-19 season.
This decision was not made lightly, according to Daniels.
"I guess with about three weeks left to go in the season, I thought to myself 'Well, he's probably gonna have some legitimately really good offers financially and opportunities.' So, we met after the season, I gave him the pros and cons of staying. These are the things we would work on if you stayed, this is why I think you should stay, here's the downside of staying, because there is. He's got a chance to go out and make really good money right out of the gate, and it's hard to begrudge someone that," Daniels said.
Zech opted to go professional, making his debut for the Bruins March 15 and scoring his first professional point March 20 with an assist in a loss to Laval Rocket. While Daniels said he understands Zech's decision, he believed that if Zech had stayed at Ferris a couple more years, he could have possibly skipped minor league play and gone straight to the NHL.
"But the downside is playing in the American League now, he's going to be playing 80 games a year versus 40 with us; he'll play twice the amount of games. The development, it'll be maybe a bit more rapid. So you're weighing both of those, you're weighing the fact that okay, you've got one year of education, are you gonna be able to leave here and will you ever finish your degree? To me, that's really important. I'm a big believer and that's why I'm in college athletics," Daniels said.
While everyone knew the 20-year-old from South Lyon was gifted, his development in the college game was fast, probably faster than anyone imagined. Zech led Ferris in point scoring with 28 points, eight goals and 20 assists on the season, and at one point even led the league in scoring for the season.
"We gave him a lot of rope as coaches, more than we would give just about any freshman and most of our defensemen because we knew when we recruited him we were bringing in a highly offensive defenseman," Daniels said. "For those kids, they have to make some mistakes to realize 'okay, this is the threshold that I can get away with this, I can't quite get away with this.' I thought there was still some room for growth in that area, just in puck management and getting out of our zone. But his development was rapid, he was very gifted coming through the door."
Besides Zech's skill on the ice in skating and puck handling, Daniels said the freshman has a vision on the ice that he even likened to hockey legend Sidney Crosby.
"What somewhat sets him apart is his vision on the ice, his ability to track where his teammates are on the ice, his ability to process that information quickly and making good decisions," Daniels said. "I once asked Chris Kunitz what separated Crosby from the other NHL players, he's not any faster. His thing was, he said … that when they would come to the bench, Crosby could talk to them and he could tell them where the nine other players were on the ice, at any given moment, and he said nobody else could do that. It's just his ability, it's almost like you're born with it. And I think Cooper's got that, too. Not to Crosby's level, but it separates him."
Despite Zech only having one year of college hockey under his belt, Daniels does not believe that the transition to the AHL will be an issue. Zech's drive was evident in his season with the Bulldogs and Daniels said he was always on the ice before and after practice. Sometimes Daniels would have to encourage him to take a break and go study.
"I think he's gonna be okay. I think he's that talented. I think to really excel at that league, he's going to have to use his summer to really build up his strength and why it becomes more difficult at the professional level is here, we have everything set for you for your development. Where in the American League, once the season's over, you're on your own, you just go to wherever you've come from. So, it's easier when you're doing it in this environment, I think," Daniels said. "He really wants it bad, though. He's a combination of he's very talented and he's very driven. He'll figure it out, he's going to and he's going to do well."
In these kinds of conversations with student athletes, Daniels said he always must remind himself to stay in check and not let his interests take precedence over the athlete's.
"From a selfish standpoint, sure, you want to keep him and that's where you gotta pull yourself back as a coach. Are you doing it for the best interest of the student athlete or are you doing it for the best interest of yourself?" Daniels said. "Obviously, I'm paid to watch out for our program and I have to do a lot of the things that are the best for the program, but I don't want to do that at the expense of a student athlete's dream and opportunity, so I keep myself in check. If I'm thinking about it strictly through the program's eyes, I'm disappointed we lost him. If I'm looking at it through his eyes, I'm very happy for him. So, it's a bittersweet thing."
Zech was unavailable for comment on his professional contract.