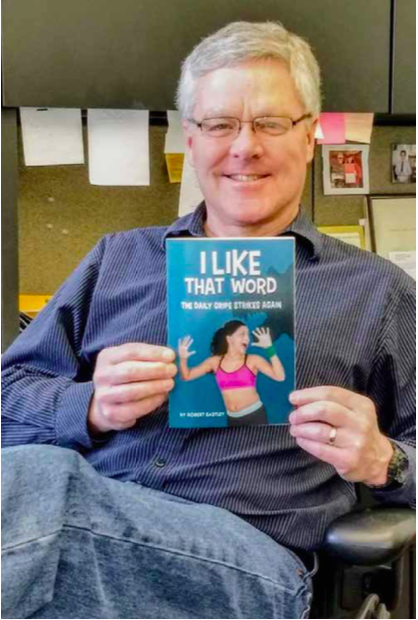 Ferris construction management professor Robert Eastley has published his second book, which is being met with success on a large scale.
The book, titled "I Like That Word: The Daily Gripe Strikes Again," is a sequel to his 2016 debut, "The Daily Gripe." Both are gatherings of humorous short stories.
"This is a collection of short stories, each one of them about a five-minute read, in all sorts of general humor categories," Eastley said. "This time, it had Amazon Best Seller status, so I'm pretty excited about it."
Eastley has been an associate professor in the construction management program at Ferris for 37 years. He is originally from Grandville, but has made his home in Big Rapids with his wife.
While several of Eastley's students exclaimed shock to learn about the publishing of his books, others were less surprised.
"This did not surprise me. He is an experienced professor, and it seemed like something he would do," Ferris civil engineering technology sophomore Sam Sherwood said. "He has a classic and tasteful sense of humor. He makes puns in class. It's cool because we all get his jokes. They are funny and easy to understand."
The balance of teaching and writing is enjoyable for Eastley. Although his books have generated local media attention and he has been featured on several radio talk shows, he said he still plans to keep his focus on teaching.
"It's just a hobby, and it's really kind of an outlet for me. Your day is kind of structured when you're a teacher. You've got to prep for classes and do all these sorts of things. This is strictly fun for me. If it wasn't, I wouldn't do it," Eastley said.
Eastley's earliest successes in writing came from publishing pieces for the Exit Laughing column of Field & Stream magazine. The column was created by Ed Zern, whom Eastley says was a huge inspiration for his writing. Eastley has also published pieces in the Big Rapids Pioneer Newspaper.
Eastley draws much of his inspiration for his stories from his own life experiences.
"A lot of stories sort of parallel my own childhood. Your first day on a camping trip with the Boy Scouts and all the disasters that go with that, or driver's education, or being a junior in high school and being at the beach with all your buddies kind of thing, and I really had a lot of fun with all of that," Eastley said. Ferris construction management sophomore Michelle Schulze, another of Eastley's students, said she is looking forward to reading his work.
"I plan to read both of his books and hopefully it will give me some comic relief in the stressful college life," Schulze said. "He is a very easy-going person and also very smart. He has the answers to most of life's questions."
A book signing will take place 9 a.m. Saturday, April 6, in the University Center's student bookstore (Barnes and Noble College). Eastley will be selling and signing his books as part of the Ferris Dawg Days festivities.