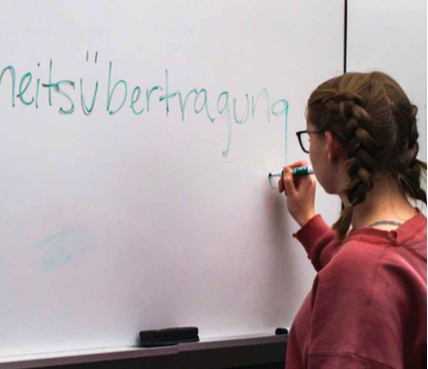 Ferris history junior and German Culture and Language Club Secretary Abbie Mumby meets with students every Wednesday to learn about another culture while making friends and playing games.
"We named this the German Culture and Language Club because it is both about the study of the German language and promoting that, but also learning about different culture, being exposed to a different atmosphere and global community," Mumby said.
At meetings, club members will engage in many German-themed activities ranging from music, movies and games such as German hangman, Sagaland, Camel Cup and Jeopardy.
Though this is a club for members who are interested in the German language, members don't want to exclude interested students. Subtitles are turned on during movie nights so that any non-fluent member can still enjoy and understand the movie.
"My favorite part is how dedicated all our members are to learning the German culture and language," Mumby said. "Some of us have actually been to Germany and fell in love with it then or through classes, and it's just a great community, at the same time promoting a fun activity and something that is integral."
The German Culture and Language Club has about five to seven official members, but welcomes anyone who wants to stop in and learn more about the German culture without becoming an official member.
"We don't require people to pay dues to become members," Mumby said. "So really, it's whoever shows up is a member for that day. If they continue to show up, then they are adopted."
Although the German Culture and Language Club doesn't host any events on campus, they do take trips on occasion. According to Ferris history junior and German Culture and Language Club President Jason Mickevich, the club took a trip to Chicago in the fall of 2018 to visit Christkindlmarkt, a Christmas market meaning "Christ child market." During their trip, members were able to see merchants selling traditional German food and drinks. Some foods sold were pretzels, gingerbread and Glühwein — a mulled wine popular in German-speaking countries around Christmastime that is typically spiced with cinnamon and cloves. The club is hoping to plan another trip to Frankenmuth later this semester.
"For the most part, we try to just keep it laid back," Mickevich said. "It should feel like a place people can come from classes and chill out while also learning about something they're hopefully interested in."
Due to budget cuts, German classes will no longer be offered at Ferris. This leaves the German Culture and Language Club's status up in the air. The cuts have also affected political science and sociology as majors and minors on campus.
"It's pretty widely known on campus that Ferris has been experiencing and anticipates reduced enrollment over the next few years due to decreasing numbers in the Michigan college-bound population," Ferris Associate Professor of English Department Chair Jody Ollenquist said. "In the English, Literature and World Languages Department, those reduced resources make it necessary to at least temporarily reduce offering some elective courses in literature and languages, including German, or offering some electives less frequently."
Ollenquist said although Ferris isn't offering German courses, students can take classes through other universities, in person or online, and have the credits transfer.
Though German classes will be leaving Ferris, Ferris digital animation and game design junior Nicholas Salamone hopes the German Culture and Language Club will remain on campus.
"I think there is a chance that it will stay," Salamone said. "It will definitely take a lot of work from all of us, especially because I know we are losing a few members, or e-board members at least, this year from transfers and or graduation."
Salamone's favorite part of the club is the relaxed atmosphere, and that everyone enjoys learning and trying to be a part of the German culture.
The club is a place for any student who is interested in German culture to come and meet new people and experience something new.
German Culture and Language Club meets 6 p.m. every Wednesday in FLITE 438. For more information, contact Mickevich at mickevj1@nullferris.edu.