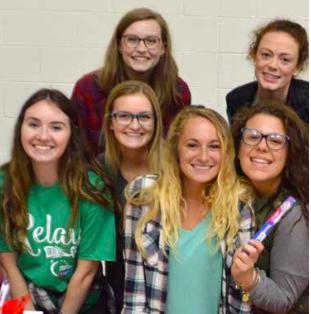 Many Ferris students and community members will band together on campus to act in the name of cancer solutions next month.
Ferris' annual Relay for Life event is being held Friday, April 12, from 6 p.m. to midnight. Relay for Life is held by the registered student organization Colleges Against Cancer (CAC) every year.
"It raises money for cancer awareness and cancer research. We have community members come out, and all the money goes to the American Cancer Society," Ferris biotechnology junior and CAC President Amanda Lietz said.
Lietz is responsible for the day-to planning, such as setting up tables, chairs, sound systems and stages.
Many aspects of the event stay the same every year. Each year, cancer survivors and their caregivers start the race off with a survivor's lap. All other participants go after them.
"Fifteen dollars, which is the registration fee, pays for someone's ride to and from treatment. The number one reason why people don't go to treatment is that they don't have a ride to treatment," Lietz said. "Fifteen dollars makes a huge difference for one person."
Relay for Life also hosts its annual Luminaria Ceremony, where they display pictures of those who have lost their lives to cancer. Once the ceremony is over, everyone takes a silent lap with the glowing luminaria bags still lined up.
One difference with this year's Relay for Life is, instead of lasting 12 hours, Relay for Life will be six hours long.
"Last year and the year before that, we lost a lot of our members – they graduated. Not a lot of people have been joining our RSO," Ferris medical laboratory science junior and CAC Vice President Delaney Scholl said. "The committees just weren't big enough to plan a 12-hour event."
Scholl works with Lietz in making sure many "behind the scenes" aspects of the event are planned – such as making sure tables are set up, the gym is booked and food for the participants are all set for the event.
Planning for the event starts with deciding on a theme, then moving onto team recruitment – the longest part of the process. This year, there are 45 teams signed up, and according to Lietz, their goal is 55 teams.
"We would love to have more people. The more people we have, the easier it is for us to run Relay and the better Relay is going to be," Lietz said.
After the theme is decided, they start working on the event schedule, which must be approved by an American Cancer Society adviser.
Women's Club Volleyball is currently the top team listed on the Relay for Life website, with $1,547 raised for the event.
Ferris forensic biology and biotechnology junior and President of Women's Volleyball Club Madison Nabozny said she liked how the event is all about going towards helping cancer patients, as she does cancer research.
"Raising money to do more research is awesome," Nabozny said.
For more information on Relay for Life, email CAC at cacferrisstate@ gmail.com.