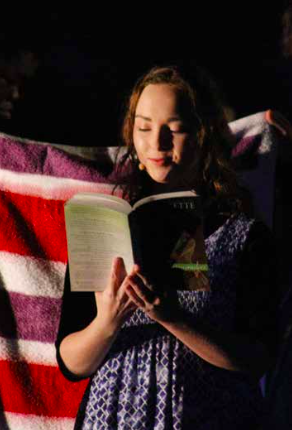 Ferris State Theatre has successfully presented their 2019 spring play, and the audience was left impressed.
The play, "The Curious Incident of the Dog in the Night-time," was written by Simon Stephens and based on a novel of the same name by Mark Haddon. The story follows a teenage boy on the autism spectrum trying to solve a mystery while uncovering other secrets.
The show was presented Thursday, March 28, through Sunday, March 31, after about two months of rehearsals.
"I came to the play to support the theatre. I helped with costumes, so I always come see the plays and see my costumes," Ferris business administration junior Natalie Rogers said. "I loved it. It's my favorite one that I've helped with so far, and it looked really great on the stage."
Many students felt that the cast did a great job. Ferris business administration sophomore Serena Rogers voiced admiraion toward how the entire cast was onstage for the majority of the show.
"I thought it was really, really good. I knew it was a book, but I hadn't read it. I knew it was supposed to be really good and it was better than I expected," Serena Rogers said.
The cast was made up of 20 students. Most of them acted out several different ensemble roles and remained onstage throughout the production.
Ferris journalism and technical communication freshman Alyssa Hubbard had three different roles in the play, and praised the work of director Katherine La Pietra and set and light designer Bob Cardana.
"Katherine and Bob worked their asses off to make this a beautiful show, and they certainly did that. It is a fantastic show," Hubbard said.
The students who participate in theatre form a bond that is present both on and off the stage. For many of them, this is their favorite part of being in the theatre program.
"We are a family, the theatre people. Everyone in the cast gets along really well, and we're all good friends. After rehearsals, we go out to The Rock or Applebee's as a group. That's really cool. We don't just get along during rehearsals or show days. We hang out all the time together outside of the theatre environment," Hubbard said.
Many cast members feel that being in theatre is an excellent way for students to make new friends while having fun, despite sometimes being a stressful process.
Preparing for a show over the course of just a couple months can be hectic, but it is also comforting, Ferris math and computer science freshman Nicholas Williams said. Williams also had three roles in the play.
"My favorite part of being in the theatre program here at Ferris is how accepting they are of new members and faces. This is my 11th year doing theatre, and I was accepted into the fold without hesitation and made so many new friends in such a short span of time. I would love if everyone could experience this," Williams said.