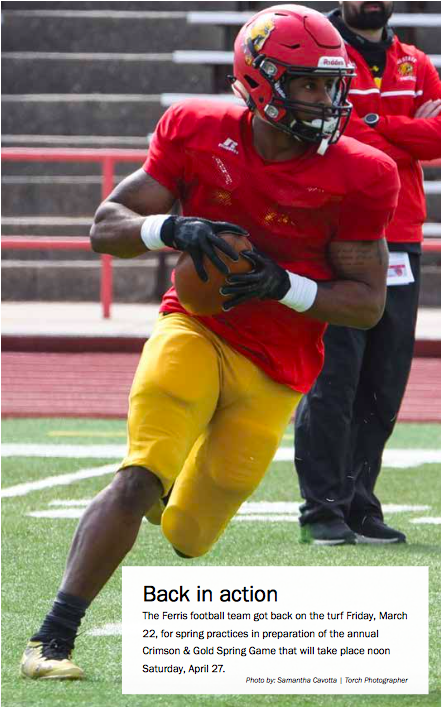 Ferris assistant football coach Ryan Brady has left Ferris to become the next head football coach of Saginaw Valley State University, becoming the seventh head coach in the history of the SVSU football program.
Brady moved around Ferris in a few different positions since he was hired in 2012 as an offensive coordinator and quarterbacks coach. After helping guide former two-time Harlon Hill trophy winner and Ferris alum Jason Vander Laan to success, he moved over to coach the defensive side four of the past five seasons. That is where he finished his Ferris career as the co-defensive coordinator and linebackers coach this past season.
The Bulldogs experienced plenty of success with the Saginaw County native on staff, as the school posted a 75-15 record since 2012 to accompany three Great Lakes Intercollegiate Athletic Conference (GLIAC) championships and five straight NCAA Division II Playoff berths.
Add this to the title game appearance last season, and it is no surprise that Brady becomes the third Ferris assistant coach under Ferris football head coach Tony Annese to get a head coaching gig in the GLIAC, joining Kyle Nystrom at Northern Michigan University and Sparky McEwen at Davenport University.
Brady also becomes the first Saginaw County native to become head coach of the SVSU football program.
He brings a winning pedigree to the Cardinals' program, as he has won everywhere he goes, whether that be in his playing career or
his career as an assistant coach. While in high school, Brady led Chesaning High School as a quarterback to the 1998 Class B championship. After a spectacular career at Chesaning, which included being named first team all-state, Brady then moved on to Grand Valley State University (GVSU). where he continued to play quarterback.
He led the school to back-to- back title game appearances in 2001 and 2002. In 2002, he helped the school win their first ever national championship. He also started his coaching career at GVSU as quarterbacks coach during the 2003 season that resulted in the second national title for the Lakers.
In between his time spent at GVSU and as a coach at Ferris, Brady was both a high school and a college coach.
In 2004, he became the strength and conditioning coach at Muskegon High School before serving as the head freshmen coach at his alma mater of Chesaning in 2005.
After spending a couple of years as the offensive coordinator and quarterbacks coach at Montrose High School, Brady then became the head coach at Perry High School in 2008. That was only a brief stay, as he would become the quarterbacks coach at Grand Rapids Community College (GRCC) in 2009.
After adding offensive coordinator to his job title, he helped GRCC to a 30-4 record and the number one scoring offense all three seasons 2009-11, before joining Annese's staff at Ferris.
Off the sidelines, Brady holds a bachelor's degree in professional instruction from GVSU and a master's degree in educational leadership from SVSU. He is also a family man with his wife, Jessica, and daughter, Isabelle.
Brady was introduced as the Cardinals' head coach at an introductory news conference Monday, March 25.