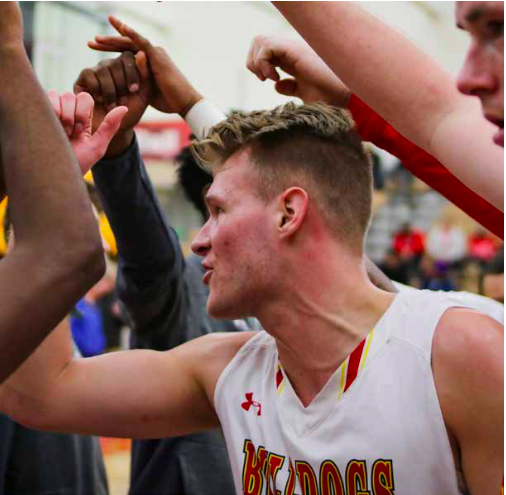 It is important that college athletes know that they are at school to learn and win degrees while also winning at their respective sports.
While some aspire to win trophies or even go pro, most players are aware their playing days may end as they compete in their nal college game. It is also the responsibility of the coaches to check in and ensure their players succeed in the classroom in various ways.
"We do study tables twice a week, we check assignments weekly, we check syllabuses thoroughly to make sure we are up to date with any assignments they may have," Ferris men's basketball assistant coach Raymoan McAfee said. "We are always there to give them a little kick in the pants every time they feel like they do not have to do something."
Study tables are where some athletes are required to participate for a few hours to sit down and finish their homework. They vary from sport to sport, but typically all freshmen are required to attend, with additional requirements depending on team members' grade point averages.
"If you have a cumulative GPA of over 3.0, then you are exempt from study tables, you do not have to go," Ferris men's basketball junior Greg Williams said. "Some guys are under that, so we do every Tuesday and Sunday for two hours with one of our coaches, or one of our advisers and you sit there, and if you need help, you get help, but it is just four hours out of the week where you can just sit down and get your homework done."
Along with the required study tables the men's basketball team enforces, Williams said the team has a rule where if a player misses three classes in the same class and are unexcused, then he must sit out a game. As for settings goals, some players take it upon themselves to set goals both with their sport and inside the classroom to strive for complete success.
"I try to make sure that I am focusing on my studies before the athletics part," Ferris men's indoor track and field senior Zach McKenzie said. "Obviously, that can be difficult at times when you are competing all the time and trying to focus on practice, so really for me it just kind of comes down to putting academics first and making sure that I am succeeding in the classroom."
The Great Lakes Intercollegiate Athletic Conference released a statement that comprises every winter athlete in the conference that maintained a 3.0-3.49 GPA, which is the All-Academic Team, as well as athletes that maintained a 3.5-4.0, which is categorized as the All-Academic Excellence Team. Ferris players represented both men and women's basketball, and indoor track and field. The list is made up of three men's basketball players, 12 women's basketball players, nine from men's indoor track and field, and 19 from women's indoor track and field.