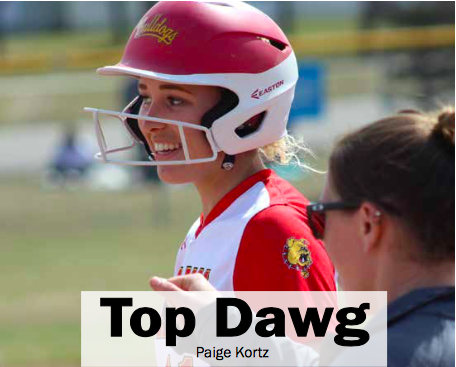 The Top Dawg award for this week undoubtedly belongs to Paige Kortz.
The sophomore outfielder for the Ferris softball team had a fantastic week for the Bulldogs — a week that concluded with a walk-off two runs batted in (RBI) double in a win against conference rival University of Wisconsin-Parkside. One at-bat stands out best in her memory.
"When I hit it, I was standing at second after my double and I actually didn't realize it was a walk-off hit since I was so concentrated on my crucial at-bat," Kortz said. "I was humbled by the experience and it is by far one of my favorite collegiate sports memories."
For the week, Kortz put up outstanding numbers. She hit for an average of .357 in 14 at-bats. She did that to go along with four RBIs and four runs scored in four games played.
This, along with great play in the field, helped the Bulldogs to an impressive 3-1 record for the week.
It also helped the Bulldogs collect a sweep of the Rangers of Wisconsin-Parkside.
Wednesday, March 27, Kortz batted .400 in the doubleheader, and scored two runs with an RBI to help the Bulldogs manage a split against Davenport University. Friday, March 29, Kortz continued to rake through Wisconsin-Parkside. She batted .330 combined in the doubleheader, chipped in three RBI in the second game and also scored a pair of runs.
The play should come as no surprise, as Kortz has played well throughout the season. Through 28 games, Kortz is batting .315 with an on-base percentage of .378. She also has three home runs to match 16 RBI and 11 extra-base hits, which has helped her to a slugging percentage of .539.
Include to these figures her spectacular play in the outfield resulting in no errors in the 2019 campaign, and it was only a matter of time before she earned the recognition she deserves as Top Dawg.
The 13-15 Bulldogs are on their home field 3:30 p.m. Wednesday, April 3, when they take on Purdue University Northwest (Hammond and Westville, Indiana), who come in with a record of 12-8.