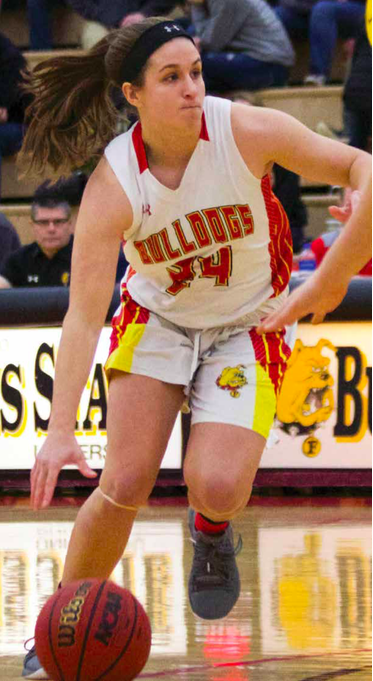 It's rare to have the opportunity to be a dual-sport athlete in college, and it takes a rare individual to make it work.
It just so happens that Ferris redshirt business administration junior Margo Brown seems to be one of those rare people.
Brown juggles two sports schedules as a shooting guard for the Ferris women's basketball team and as a member of the women's golf team. It was a daunting task initially for Brown, but after a while, she started to feel comfortable with her busy routine.
"The biggest adjustment I had to make was balancing my time between practices, workouts and team meetings for both sports, on top of school," Brown said. "I have since learned to be on top of my schedule at all times. In fact, staying disciplined has been one of the biggest lessons I have learned from being a dual-sport athlete."
While this crash course in time management proved to be fruitful for Brown, it turns out that it almost never happened.
Brown grew up playing both of these sports in her hometown of St. Ignace. She got her first set of golf clubs at the age of three and she started playing basketball at four years old. She continued forward with both sports at LaSalle High School.
"For basketball I was recruited by the previous head women's coach, Colleen Lamoreaux-Tate, who played college basketball with my high school coach at Lake State. Coach Faustin came in with my class and has been here ever since," Brown said. "My sophomore year at Ferris I redshirted because I had to get knee surgery and at the same time, I realized I missed competing in golf tournaments. My older brother, Joe Brown, played golf at Ferris with the head coach Kyle Wittenbach, and pushed me to talk to Coach Wittenbach to see about playing golf at Ferris."
And contact Wittenbach she did. In fact, after contacting Wittenbach, she was given a chance to try out for the team. According to Wittenbach, Brown earned her spot on the team due to displaying "the proper attitude and ability."
This attitude has continued to the present as she describes herself simply as "competitive." Wittenbach thought along similar terms, as he believes "gritty" is the word that perfectly describes the dual-sport athlete.
"Margo brings a toughness and intensity that builds our team culture and attitude in a positive way," Wittenbach said. "Her discipline and time management have helped her succeed as an athlete and will benefit her in the future in all endeavors."
The attitude she brings has served her well in her career. While she has displayed her talents on the golf course, she hasn't gotten much run on the basketball court in her career at Ferris. This past season, she saw time in just 10 games and only averaged 0.6 points per game.
That gritty attitude she has shown, as well as her excellent ability to manage her time, has led her to new passions and, one might say, new future endeavors.
"For my redshirt senior year, I am competing in golf and I am going to be a student coach/graduate assistant for the basketball team," Brown said. "For basketball, I am looking to be open to learning and changing into a new role for the team. I'm excited to learn about the behind the scenes decisions that go into coaching."
This inspiration came from both of her current coaches, who she credits with allowing her to succeed in playing both basketball and golf. She looks forward to this in the future, but also wanted to look back on what was a wild ride for her in her first few years at Ferris.
"I have loved every second of being a two-sport athlete, and I think anyone who gets the opportunity to be a dual-sport athlete should take the chance and try it," Brown said. "I have learned a lot about myself as an individual, student and an athlete from taking on this challenge."