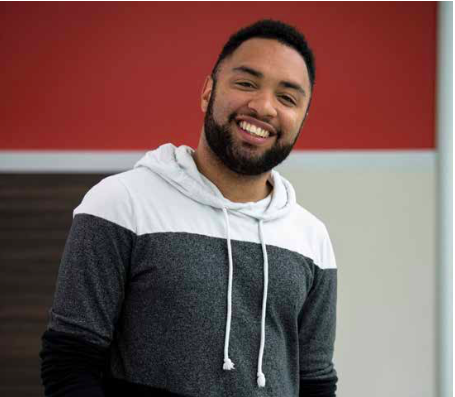 After spending four years living the college life, Ferris applied speech senior Tyrell Austin is graduating spring 2019.
Preparing to leave college and start his new life, Austin talks about his time and experiences at Ferris.
"I have been trying to prepare myself for life after college, and I've come to the realization that no matter how much you can prepare, we will never really be ready for life after college. We just have to live through it," Austin said.
While at Ferris, one of Austin's achievements was being runner-up for homecoming court. Austin also expanded Greek life by founding the first ever Latino-based multicultural Greek social fraternity, Sigma Lambda Beta International Fraternity Incorporated, at Ferris.
Being the first person in his family to graduate and receive a degree, Austin came to Ferris to make something for himself, to achieve and become something people told him he could never do or never be. Austin wants to inspire others who think they might not be able to or shouldn't go to college.
Through the ups and downs of college, Austin is happy to have gone through it all. Austin said he has learned, messed up, became stronger and more relatable with his time here at Ferris.
"I am going to miss many things at Ferris," Austin said. "My friends, the professors, my fraternity brothers and all the other amazing people I have met along my college journey. Ferris has become a home for me after I had left mine. I will cherish the moments, memories and the connections that I have made since I have been here."
Making friends during his time here, Ferris business administration senior Lukas Sizemore first met Austin fall of his junior year when they were in American government together. Sizemore said that since then, they have become close.
"Tyrell is the most outgoing and positive person I have ever met," Sizemore said. "He is seemingly friends with over half of campus and can't go anywhere on campus without saying hello to everyone he comes across. His level of involvement had inspired me to get more involved as he is constantly doing something, often for the benefit of others. Tyrell is the kind of person you know will be successful in life just because of the way he is likable, smart and kind to everyone. It has been my pleasure to get to know Tyrell, and like everyone else who has, I am a better person for it."
To the incoming freshman, Austin wants to advise them to join as many things on campus and find their niche. Austin wants them to remember one thing: everyone here is getting the same degree and ask themselves "what will set them apart from the rest?"
"I chose Ferris because of the welcoming environment I received when I first stepped on campus," Austin said. "It never changed as many times as I visited even on the first day of my college career. Ferris really cares about their students and the way they can empower them to increase their full potential."
Austin said he plans on receiving a full-time job with great benefits and pay after graduation. His more in-depth plans are to work as a salesman and then make his way up in the business world to work for Crisis Management.