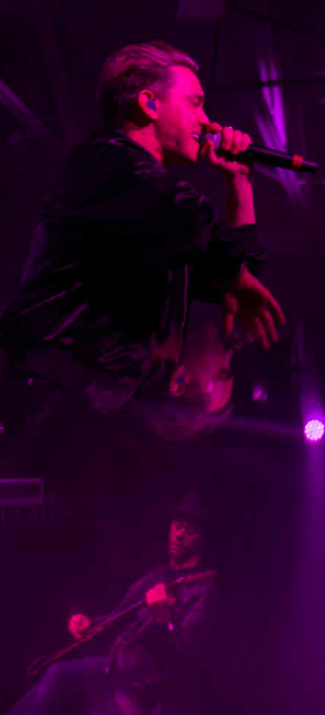 Pop artist Jesse McCartney swooned and crooned Wink Arena at this year's Music Takes Action Satuday, March 30.
For many Ferris students, the show brought back a sense of nostalgia and McCartney did not fail to meet students' expectations.
"It's everything that my 12-year-old self thought that it would be – it was phenomenal. I was so excited and he had so much energy," Ferris mathematics secondary education senior Deanna Landis said.
The opener for the show was MAX, a dance and electronic music artist, best known for his song "Lights Down Low."
"It was something I grew up on, so it was really exciting to hear that he'd be performing here," Ferris television and digital media production junior Krysta Taylor said. "I thought it was honestly the best show I've been to in my three years here at Ferris because MAX and Jesse McCartney – both of them were absolutely amazing."
Ferris music and entertainment business junior Alyssa Bala, co-coordinator of Music Takes Action, said this switch allowed the event to focus more on charities.
"It's a huge show. We started planning this show in August. We created a survey and sent it out to the student body and faculty, and we get our responses from that: what kind of genre they're into, when they'd like the show, what kind of charity for the event they would like," Bala said.
After the survey results are received, the coordinating group took more questions to a focus group to help determine who would be the headliner of the show.
For 2019, Music Takes Action worked with the nonprot organization I Understand, a mental health charity from the Grand Rapids area that assists those affected by mental illness or suicide. According to Bala, I Understand helps families who are affected by mental health and suicide heal by offering support groups, events and fundraisers.
"We wanted to pick a charity that dealt with mental health because we need more mental health awareness," Bala said. "They were a local organization and they were really great to work with."