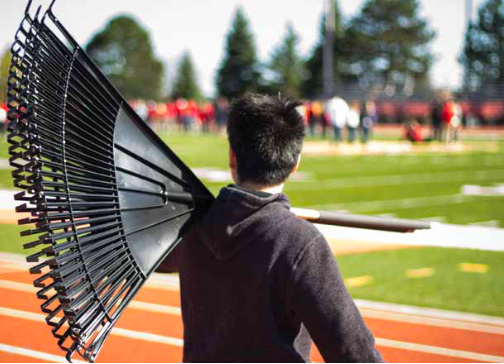 After a weather-related cancellation last year, Ferris' annual Big Event is making its big comeback.
The day of service in which volunteers do yard work for Big Rapids residents is set to commence Saturday, April 13. The Big Event was canceled last year with no reschedule date due to hail.
Ferris criminal justice and psychology senior and Director of the Big Event Tess Strasser said last year's cancellation offered a big effect on this year's planning process.
"Everyone who was on the list last year got a spot for this year. So around December or January, we called all the homeowners to see if they wanted to come back out this year, along with getting new homeowners signed up," Strasser said.
Organizers, volunteers and local residents were all upset about the event having to be called off.
"We put in a lot of time and effort. We do this many hours of the week. Then the day of, we called all 250 homeowners to let them know we weren't coming," Strasser said. "People were upset, but I mean, they could look out their windows and see it was hailing last year, so it was very understandable."
Despite the hurdle, the 2019 Big Event is expected to return better than ever for its thirteenth year. Students who sign up will receive free breakfast, lunch and T-shirts.
In addition, volunteers will be treated to raffle prizes and performances by the Ferris Cheer Team, Ferris' a capella group Vibrato Vibes and a keynote speaker. A DJ from Bulldog Radio will also be present.
Ferris biology senior Simi Kaur will be participating in the event, and believes it was well-organized in previous years.
"I think it's put on really well. I think everything is really well organized. There's always open spots for RSOs. We can have outside people sign up for our RSO and come help us out if we don't have enough participants." Kaur said.
"The community just really needs it. We have a lot of people in the community with disability, or children with disability, or that are older or veterans that just can't do basic yard work themselves. So it's really nice to be able to give back," Strasser said.
With 200 houses approved for yard work and 600 volunteers currently registered, it is not called the "Big Event" for nothing, but organizers are still hoping for more participants.
There is no deadline before the event's date to sign up for the event. Students can sign up on Orgsync, at a table in the University Center or arrive early on the morning of the event to register.