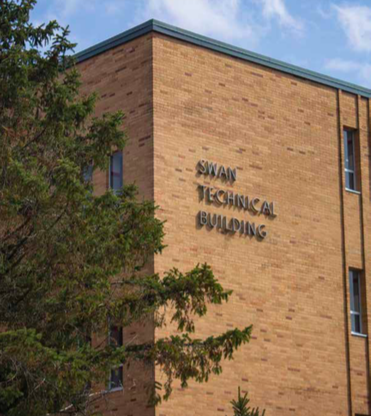 Ferris' Swan Technical Arts Building enters its second semester of use after receiving an extensive expansion to its annex wing.
"It more or less just expands our lab capabilities," College of Engineering Technology Interim Dean Richard Goosen said. "It gives us more space and better space than we had before. There's more electrical access, more air, more light in their labs."
The recent expansion extended the Swan Building out to approximately 22,600 square feet, giving students and faculty expanded laboratory space and better access to the latest welding and manufacturing technology. The welding engineering technology program received seven new laboratory spaces equipped with new welding equipment and technology.
"It gives us more opportunity for students to get involved," Manufacturing Engineering Technology Director Mark Dunneback said. "Before, we had people working around five machines. Now, they can work around eight or ten machines."
The Welding Engineering Technology program has expanded its incoming freshmen class size from 40 students to 60 students as a result of the new Swan Building expansion.
"We have an extensive waiting list for the program, so that helped alleviate that a little bit," Welding Engineering Technology Program Coordinator Jeffrey Carney said. "That allows us to expand our enrollment at the upper levels of the enrollment."
The state of Michigan helped fund a portion of the Swan Building expansion as well. Every year, Ferris approaches the Michigan state government to acquire funds through the state capital outlay project. These funds can be used for renovations and expansions to campus buildings. Ferris originally proposed the $30 million Swan Building expansion project in February 2013, with Michigan's state government approving the funds in 2016.
"It dragged on for a little while," Carney said. "It hasn't just been a project since 2013; its been a project for the last 30 years to grow and continue the growth in different areas to better serve the students."
The expansion initially opened at the start of the Fall 2018 semester and will fully wrap up construction at the start of the Fall 2019 semester.
"There have been some adjustments and growing pains with people moving around," Dunneback said. "It'll be a lot cleaner next year because all of the work will be done, and we'll be able to settle in."
A ribbon-cutting ceremony will be held at the Swan Technical Arts Building Friday, April 26. The ceremony will run from 1 — 3 p.m. and is open to the public. Michigan Senator Darwin Booher, who helped the College of Engineering Technology secure the funds for the expansion, will be in attendance.
"Students are happy to be here and at Ferris in general," Carney said. "Whether it's welding or mechanical, they like the new annex. It's made recruiting easier, also. When a parent or prospective student walks into any one of our facilities, there's just no place like it."