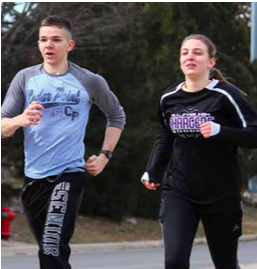 While some students have trouble simply walking to class, Ferris engineering technology junior and Running Club President Anna Wietharn is part of an organization that loves to run all around Big Rapids.
The Ferris Running Club is a registered student organization (RSO) for students who enjoy short two-to three-mile runs while also doing the occasional nine-mile run.
"It's mainly geared to people who ran cross-country in high school," Wietharn said. "But we are currently rebuilding and trying to encourage people, especially if we get a number of different people joining, we can help facilitate people in different stages of distance."
During meetings, members will run anywhere from streets around campus to trails around Hemlock Park. They will also participate in races hosted in town as well as Grand Rapids.
While the RSO officially has five members, the Running Club is always looking for more people to include. This club is best for students who are looking to get back into running or are interested in starting.
Ferris public relations freshman Bradley Moore welcomes the excuse to get out and exercise when he attends running club meetings. While Moore enjoys running now, he had to build up his endurance over the years.
"When I first joined track, I wasn't good at running," Moore said. "But I would run on my own and set up distance for myself and meet that distance, and every so often I'd bump it up half a mile or however much until I was running four or five miles every single day. You just get used to it."
With the warming weather, Moore will be spending his time running and enjoying the outdoors. Though the Running Club can be seen outside in the spring, they are a year-round organization that enjoys running indoors during the colder days.
Ferris pre-pharmacy sophomore Josh Matson enjoys finding an organization that shares his passion.
"It's nice to be able to talk to different people who have the same interests because, you know, there's a lot of people who have the Rec Centre, but not everyone likes to run and talk about different routes and different races. So, it's nice to have people to talk to," Matson said.
Some of Matson's go-to running trails include along the river trail and along White Pine Trail when he wants to get a lot of miles in. Matson will run every day, but likes to go once or twice a week to take a longer run of at least three miles.
"We just like to run, essentially see different parts of Big Rapids and get some exercise, get moving a little bit," Matson said. "We just run as a group and some camaraderie when we're going around places."
The running club meets 4:30 p.m. Tuesdays, 5 p.m. Wednesdays and 4 p.m. Thursdays in the Student Recreation Center lobby area.