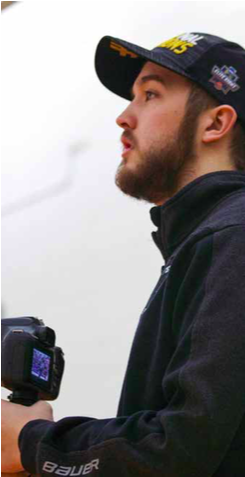 Not all the magic happens on the field. In fact, a lot of it happens behind a student intern's camera.
Ferris sports communication junior Conner Pyrc is an intern for the Ferris athletics department, and if you've seen highlight videos on social media the day after a game, that's most likely Pyrc's handiwork.
But his position is primarily due to his own initiative, having sought out the job and even starting at an unpaid position.
Pyrc said that he reached out to the athletics department and volunteered to run music at the football games for free. With prior knowledge on video production that Pyrc said he learned from his dad, he was offered an internship.
"Just being able to have the creative freedom to create whatever I want and have thousands of people see it and hopefully enjoy it, is such a rewarding feeling," Pyrc said.
When working in the athletics department, Pyrc said he does everything from filming highlights, editing videos, color commenting on hockey broadcasts, sideline reporting for football, making graphics for social media, doing voiceover, editing commercials and helping run the social media accounts.
"Much of the video we produce following games is edited late at night and into the morning hours, so we can turn it around quickly for our fans. He has spent many late nights and early mornings producing graphics and video for our department in addition to being a regular at nearly every home game,"
Ferris Assistant Athletic Director Rob Bentley said. "Conner is a great person and one that is devoted to his work. He's very personable and interacts well with our student-athletes and coaches."
As a Montrose native, Pyrc's career began at Montrose High School, where he graduated with about 90 students and broadcasted sports with the digital media team.
"Other than playing sports in high school, working for Ferris is my first time working with an athletic program," Pyrc said. "I had been at Ferris for a full year and decided that if I was going to be successful and use the most of my time here, then I needed to get involved."
Pyrc said that he could spend upwards of 20 hours a week just filming and editing videos during the busiest part of the year when football, basketball and hockey are all happening at once. That's just the video editing, though, besides the number of other jobs Pyrc takes on.
"During our peak season, which is August to December, when we have our most sports active, Conner routinely puts in 40-50 hour weeks, including game days. Really, it's a full-time gig for him, but really he's expecting it of himself more than we're asking him to go that above and beyond," Ferris Communications Associate and Hockey Play-by-Play Announcer Harrison Watt said.
Pyrc has gone from just another intern to the heart of the athletics staff, and without his work, athletics would be very limited in the engagement they provided to fans, according to Bentley.
"Conner is such a vital part of our staff. I can't even begin to tell you the number of times he has come through to take what can be a truly insane load," Watt said. "Conner handles it like a seasoned sports information director. He's going to be an absolute gem for whoever hires him after he's done at Ferris. Mark my words."
After he graduates, Pyrc wants to work for a collegiate or professional football team in creative content, much like his job now at Ferris.
"I think he has exceeded what we initially expected of him and it's due to his strong desire to be the best he can be," Bentley said. "We're fortunate we've been able to find another highly-motivated individual who wants to excel and has the skills and desire to learn and grow."