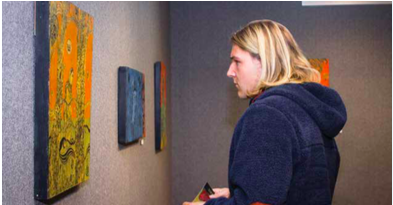 In honor of Celtic culture, Ferris history junior Abigale Mumby took herself out of musical retirement to play traditional Irish music on her violin.
Inspired by the latest Ferris Art Gallery Exhibit, "Myths, Monsters, and Mystery" by Steve Barber, Ferris history honor society Phi Alpha Theta hosted their own celebration of Celtic history and culture Friday, April 12.
"I really enjoyed hearing the artist speak," Mumby said. "Hearing his process and learning that he listened to music while painting is something similar to what I do and gave me inspiration for when I played the violin today."
Ferris history junior Travis Shears said the organization found "Myths, Monsters, and Mystery" the perfect opportunity to collaborate with the art gallery because of the different Celtic imagery that was included in the paintings.
"St. Patrick's Day was not too long ago," Shears said. "We saw this art show coming up and decided that we wanted to do something Celtic-themed because it sounded like a lot of fun."
Other members of Phi Alpha Theta contributed by reading excerpts of different Celtic literary works ranging from folktales to poems. There was also different Celtic imagery for students to color.
Ferris history and English junior Jason Mickevich read from "Finnegan's Wake," a novel that is considered one ofthe most difficult pieces in the English language.
"When I discovered the book, I was so fascinated by it because it just seemed to make no sense," Mickevich said. "I thought that it was kind of funny, so I figured others would get a laugh out of it as well."
Phi Alpha Theta has done other events like Celtic Day throughout the years. They hold book sales, game nights and movie nights, and are regularly involved in the Black History Month and Women's History Month events on campus.
Ferris history professor and Phi Alpha Theta adviser Dr. Tracy Busch believes having events like Celtic Day are very important.
"They gave us several hours to pause and consider theway that music, art and poetry in uence our understandingof history," Busch said. "History is not just about names and dates, it is also about people who dream, sing and draw."
Phi Alpha Theta has two events coming up Thursday, April 25. They will be having a bake sale in the IRC connector noon – 4 p.m. and a game night in FLITE 214 from 7 – 9 p.m.
There are grade point average requirements to join Phi Alpha Theta, but they are combined with Club History and are open to anyone who is a history major or minor, or who is simply interested in history itself. Phi Alpha Theta meets 7 p.m. Thursdays in FLITE 214. For more information, contact Tracy Busch at tracybusch@nullferris.edu.