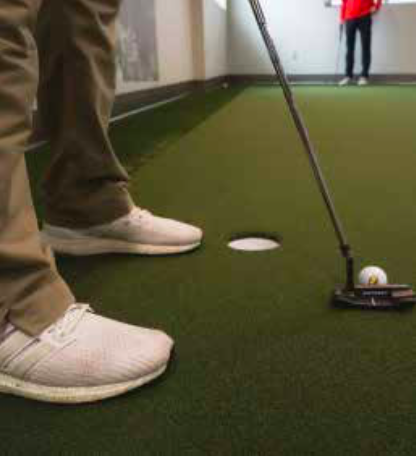 Ferris students proved once again that sports are about more than just gameday, this time with the professional golf management program's cancer fundraiser.
The PGM program hosted their Fore Cancer event Thursday, April 11, that raised money for Relay for Life and showed off the new Ken Janke Sr. Learning Center at the same time.
Community members were able to tour the Ken Janke Sr. Learning Center and see all the new perks this facility will offer not only golf programs but also provide families with another opportunity to get out and do something together.
"It helps give the new learning center a spotlight for the community," Ferris PGM sophomore Alyssa Snider said. "People have known about this place being built for years so it's a good way to show it off and help raise awareness for a good cause."
While showing off the new learning center, the PGM program was focused more on raising money for Relay for Life and bringing awareness to cancer.
"I always have had cancer affect my family, and to be able to use golf as a way to fundraise and not allow others to go through that means a lot to me," Ferris PGM freshman Parker LaPointe said. "To get the public involved, show dedication to the program and raise money for cancer awareness all through the golf was the main idea of this event."
"For the amount that we had from donations and walk-ins outside of the business donation that we had, we were very pleased with the amount that was raised as this event was not only last minute but also the first year that we have ever run the event," Ferris PGM junior Brad VanGorder said.
With a $250 donation from Doyle Vacuum Systems, LLC, the Fore Cancer event raised a total of $416.93 with about 17 community members coming to see the new center and approximately 10 volunteers working the event.
"The end goal was to get as many people involved to raise money for Relay for Life and bring Cancer Awareness as well to show off the new facility," LaPointe said. "All the public that came in were generally surprised by the fact the facility was so nice and all of the technology that we had in there. Some of them didn't know that there was so much more you can do with the game of golf and the new facility showed them what is possible."
Community members who attended were able to purchase raffle tickets that, beside offering the chance to win prizes, also allowed for a game on one of the golf simulators per purchase.
The new Ken Janke Sr. Learning Center allows golfers to practice year-round to master the game of golf. The new learning center has four TrackMan golf simulators, three heated indoor hitting bays and an indoor putting green. The two-story, $3.5 million facility is also home to the Michigan Golf Hall of Fame.