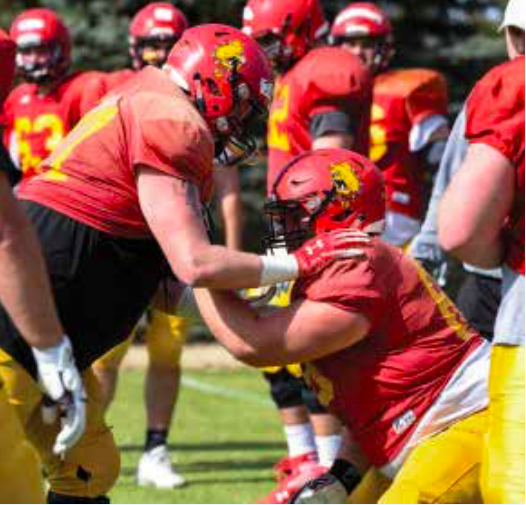 Spring is nearing its end for a Ferris football team that has unfinished business in the 2019 season.
With the beginning of a new season comes not only new names and new faces but also renewed energy for players returning to the program from last season.
"It's been so good to be back out there playing and competing," Ferris senior quarterback Travis Russell said. "It's been high energy because we've been looking forward to the summer."
Russell has played a lot of reps behind center thus far this spring. It's something he has relished, given the fact that he can use that experience for the betterment of the team.
"I've taken a lot of reps doing this for four years, so I should be playing at a high level," Russell said. "While doing it, it has given me a great opportunity to help mentor the young guys who will be getting the torch passed on to them when Jayru and I leave."
As for the whereabouts of Ferris senior starting quarterback Jayru Campbell, he will sit out this spring, recovering from an offseason elbow surgery.
Russell isn't the only player that has had to step up due to injuries. Ferris senior offensive lineman Cory Carr and multiple others have also had to sit out the spring session, opening doors for other names to emerge.
The good news for the injured players is that they are all are expected to be back come summer, according to Ferris head football coach Tony Annese, who returns for his eighth year at the helm of the Ferris football program.
These injuries have led to many standouts that haven't spent a lot of time in the spotlight in the past. One of those new faces is Ferris sophomore slot receiver Marcus Taylor.
Not only did Taylor receive praise from Russell, who has been one of the guys throwing him the ball this spring, but he also received some recognition from Annese.
Taylor comes off a season with 12 appearances for the Bulldogs. He caught just six passes for 61 yards, but he will be the name to fill the void left by Keyondre Craig, who graduated after being the number two target for Campbell in 2018.
In fact, Taylor is one of many young guys who has the opportunity to show what they're capable of throughout the spring.
"I want players to grow in their knowledge of our system and grow in their skill level, and so we play a lot of young guys in spring ball, a ton of young guys in spring ball," Annese said. "That's our ultimate goal, to be getting young guys going and being successful."
It seems to have worked, as Anesse not only mentioned Taylor as one of the most improved players this spring but a few others as well. He also mentioned Ferris redshirt sophomore defensive back Jovan Bayless, Ferris redshirt sophomore defensive end Ian Hall and Ferris sophomore wide receiver CJ Jefferson as players who have impressed him this spring.
These players, along with the rest of the roster, will have just a few more chances to turn heads this spring with two more practices before the spring game.
The practices culminate with the annual Crimson and Gold Spring Game noon Saturday, April 27, at Top Taggart eld.