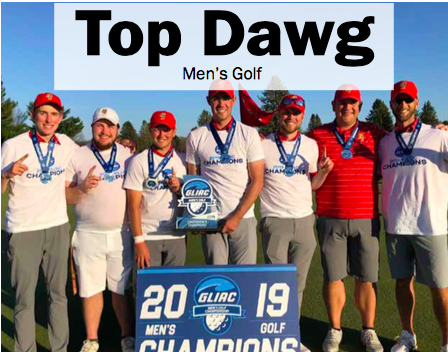 Top Dawg moves to the green this week with the Ferris men's golf team who won the Great Lakes Intercollegiate Athletic Conference tournament Sunday, April 21.
Five members of the team competed in the tournament that begin with stroke play on Friday, April 19, and Saturday, April 20. Ferris seniors Jack Weller, Andrew Hammett, Seth Terpstra, Ryan Bayer and freshman Thomas Hursey represented the Bulldogs at Bedford Valley Golf Club near Battle Creek. After 36 holes of stroke play, the lowest four of five scores compiled each team's score and the top four teams moved on to medal play on Sunday.
Ferris defeated No. 2 seed Grand Valley State University (GVSU) in the first match of medal play with three wins of the five matchups. Weller, Hammett and Hursey got the wins against GVSU by three, four and five strokes respectively.
"I was very excited to reach medal play after Saturday's round. It was disappointing to not have the No. 1 seed, but we were confident in our coach to give us the best pairings against GVSU and Ashland," Hammett said. "The pairing set perfect for us, and the team played incredible. We were all confident that if we just played our game, we would take care of business. The format of medal play really brings out the team aspect of the tournament. I've never been more proud of the performance of all the guys, and we plan to keep it up into Arkansas."
The title match against Ashland University was held on a par 72 course and Hammett won his match by the largest lead of seven strokes. Terpstra won by one stroke, Hursey lost by three strokes and Bayer and Weller's matches finished in ties, giving Ferris the championship win. This was the program's 20th GLIAC Championship, according to Ferris Athletics.
Hammett said he likes the new format that was implemented and believes it brings out the best teams in the conference and allows teams to make a late push to earn Regional sports. One of the teams goals this season was to position themselves high in the region, according to Hammett.
"We compete in one of the most competitive regions in the country," Hammett said. "Every year the teams moving through to Nationals are separated by a few shots. Good news is that we are allotted 6 spots out of 20 to advance to the National Championship. All we can do is play our game, be patient and stay present in the moment."
The Bulldogs hope to compete in the NCAA Division II Super Regional Championship May 9 to 11 in Hot Springs, Arkansas, and will find out the official NCAA selection announcement later this week.