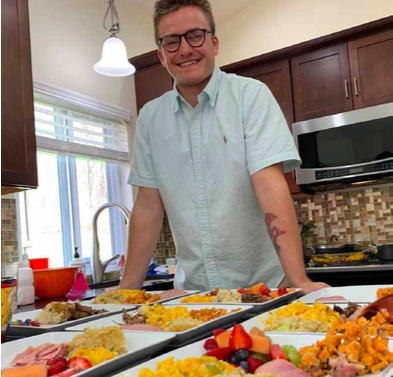 What do Bobby Flay, Gordon Ramsay and Ferris football junior kicker Jackson Dieterle all have in common? The fact they all whip in the kitchen.
Dieterle is known for what he can do with his leg, such as when he broke the NCAA Championship Game record with his 52-yard kick Saturday, Dec. 15. This was Dieterle's first season as the starter and his talents do not stop on the field, they also carry over well into the kitchen where his other passion is cooking.
Dieterle's passion is so intense that he started to cook food for people and sell them as "to-go" boxes. Some of the to-go boxes he has prepared so far include Philly cheesesteaks, alfredo wings and macaroni and cheese, which all come with a vegetable. Just recently did Dieterle start promoting his passion for food to the public, with his first to-go box Saturday Thursday, March 28, which generated great interest.
"I'm in hospitality management with a restaurant industry management focus. My end goal for my career is to have my own restaurant," Dieterle said. "About a month ago, I had the idea of making these to-go boxes for my friends so I could get feedback on my food, and more importantly, just make the people I love a good meal."
Along with gaining feedback toward his meals to better his future career, a big inspiration for Dieterle started right in his home.
"My inspirations for cooking are my parents first and foremost," Dieterle said. "They were always in the kitchen and have been really supportive with me following my dreams, so I do it for them and my family."
Ferris football sophomore wide receiver Brett Pero met Dieterle on the field, but after freshman year, Pero and Dieterle rented an apartment together and are now roommates. Pero critiques Dieterle's food and samples various dishes that Dieterle might consider rolling out in the future.
"When he told me he was going to start doing weekly to-go boxes I thought it was a spectacular idea," Pero said. "Living with him the past two years, I've had the pleasure of sampling a lot of his dishes and I promise you they don't disappoint. He is passionate about what he does in the kitchen. I think the quality of his food proves that."
Pero, who has given Dieterle's food business the name of "Big Jack's Meat Shack," explained that the average college student will spend $10 or more on fast food each week. But, if they save that $10 for a to-go box, they will be getting more bang for their buck and higher quality food, along with helping a Ferris student pursue his dreams. Pero's favorite meal that Dieterle has made is the Philly cheesesteak and he requests it as frequently as he can.
So far, after the three weeks that he has been making the boxes, Dieterle has totaled 55 meals with 15 meals made during his first week and then 20 back-to-back meal weekends, he said. Dieterle spends four to six hours on Saturday just to get everything ready for his customers so the food is hot and ready to go.
It is apparent that Dieterle has a passion for what he does in the kitchen, but along with his motivation towards his future career, the joy he brings to other people is one of his favorite parts.
"My absolute favorite part about making food is seeing people's faces light up when they try something I made," Dieterle said. "Or hearing, 'this is the best food I've had in a long time.' Anytime you're being praised for something you're super passionate about and love doing, it just drives you to keep improving and keep chasing your dream which is what my friends are doing for me whether they know it or not."
To see Dieterle's to-go boxes or learn more, visit his cooking Instagram @dietzmietz.