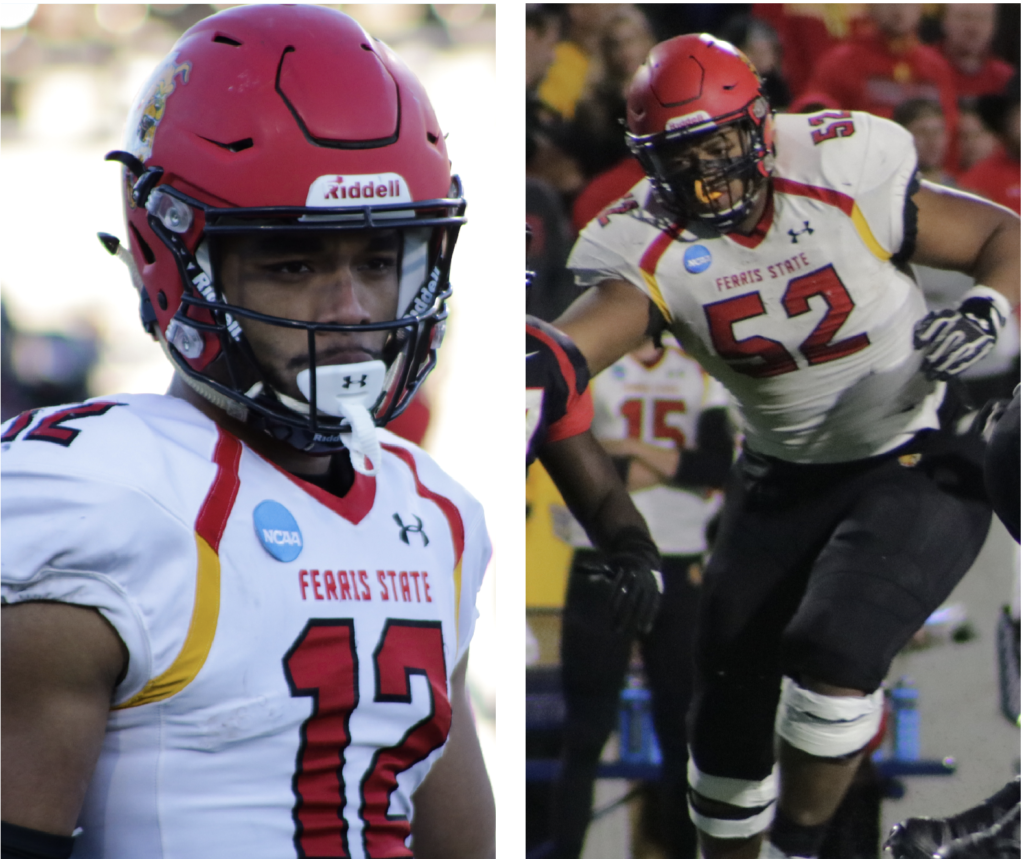 Ferris football continues to show its excellence with another year of multiple players signing professional contracts.
Ferris alums wide receiver Malik Taylor and offensive lineman Devon Johnson both signed contracts with the Tampa Bay Buccaneers and Atlanta Falcons, respectively, after the conclusion of the 2019 NFL Draft Saturday, April 27.
Many already know Johnson's story as the underdog.
To refresh your memory, rewind a little bit before he signed an NFL contract with the Falcons. Go back before he reached stardom at one of the powerhouses of Division II football. At this point, you should have arrived at Waubonsie Valley High, the former high school of Johnson, where he made just one varsity start.
At that point, he was a so-called "clumsy giant." Now he is an NFL player, one who will look to continue a recent trend of former Bulldogs latching onto NFL rosters.
"At first I was kind of nervous," Johnson said. "I thought that Saturday was really going to be my day to be drafted. But once I started to look at it and realize that it was more of a defensive draft, I sort of understood. I was so excited when I got the call in the middle of the seventh round from the Falcons. I knew it was my opportunity."
Johnson gets his shot in the NFL after an illustrious career at Ferris, one that is full of accolades. Johnson is a two time All-American, a freshman All-American and a two-time All-Conference selection.
On top of that, he was one of just a few Division II prospects to be invited to the NFL Players Association Bowl and even parlayed that into an invite to the NFL combine, where he got a chance to show how improved he is from the kid who couldn't crack the starting lineup in high school.
"I'm really confident in my abilities," Johnson said. "I'm going to take it day by day and soak it all in and try my hardest. I'm really excited for the opportunity because I know that I have the ability, the talent and the size and the enthusiasm to stick around the league. You know, I don't doubt myself at all. I'm really excited for this and I feel like this is my time to shine. I've got nothing to lose."
Johnson wasn't the lone member of the pack to sign a contract after the conclusion of Saturday's NFL Draft.
Taylor signed a contract with the Tampa Bay Buccaneers, who happen to be the division rival of the Falcons.
Taylor gained a lot of momentum in the drafting process just weeks before the draft as he started to fully recover from a hamstring injury that meant he missed much of his senior season at Ferris. He was then able to convert that momentum into a shot to land a job in the NFL.
Taylor leaves Ferris after a successful career both team-wise and individually with the Bulldogs. He finishes his career with 121 catches for 2,091 yards and 12 touchdowns, which puts him among the best receivers in Ferris history.