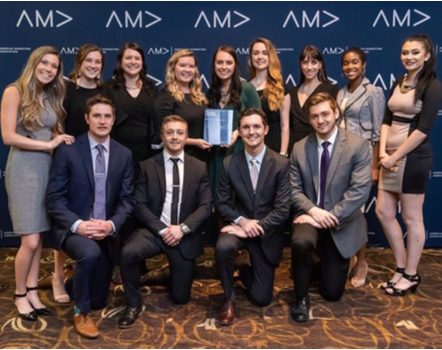 For the second year in a row, Ferris' American Marketing Association (AMA) has ranked in the top 10 of 388 total chapters across the country.
AMA is a Five-Star registered student organization (RSO) open to all majors. Right now, AMA has 14 different majors among the students in their RSO. The RSO's theme for this year is "Ready for the World."
"AMA provides communication service, professional development, just overall resume building opportunities Ferris business administration senior and AMA President Lucy Reigle said. "We provide you with real world opportunities to see what's out there for your career and have you as prepared as you can be to be hired."
Reigle said the top 10 ranking can be attributed to many things, including the number of events hosted, how much volunteering they do and general student involvement.
This year, AMA hosted more than 300 events around campus. Some of their biggest events included hosting the Annual Regional Conference, resume workshops and the CROP Hunger Walk. They have also raised almost $7,000 for the CROP Hunger Walk in Mecosta County, which aims to raise funds to end hunger in the U.S. and around the world.
AMA achieved more than 1,500 hours of community service. They encourage members to reach 125 hours of community service each year.
Ferris marketing senior and AMA Vice President Veronica Cousino worked on the chapter plan and annual report, which is submitted for the chapter's grading criteria.
"It's everything from professional development to community service to fundraising, to our finances to social life, all those things wrapped up into one to try to explain what we do in a paper form," Cousino said.
The first report submitted is the chapter's goal for the school year. The second report includes details of everything the chapter did over the school year and how they achieved their goals set out in the first report.
Ferris marketing senior Keegan Brown said ranking top 10 among 388 chapters is an honor.
"People are a lot more capable than they may tell themselves they are. We're all just Ferris State students from Big Rapids, Michigan, and we're competing with top dogs from Penn State, from Texas State, Temple University — really high-ranking business schools," Brown said. "We go out and just do the best that we can. It really goes to show with that hard work and focus you can do extremely well."