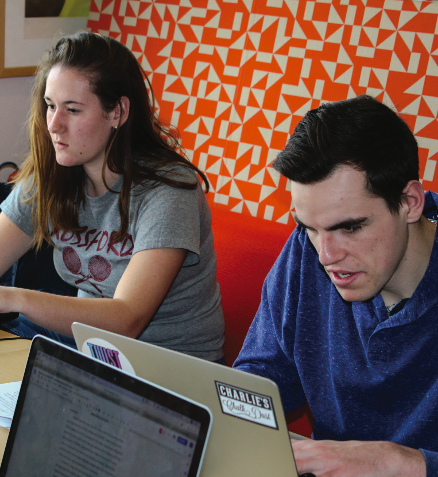 April showers might bring May flowers, but they also bring spring exams, and that's all Ferris students are concerned with right now.
Ferris nursing junior and President of the Honors Student Association and Honors Student Council Madeline Keely notices many students cram right before tests instead of taking the time to study consistently.
"A lot of students just print out notes and stuff, and just look through it. They never highlight or write notes on the paper, or even write notes on a whiteboard,"
Keely said. "A lot of people don't have a photographic memory, so just staring at a paper isn't going to do a whole lot for them."
Keely believes the best way to study is to make time and not wait until the last minute.
For classes like math or chemistry, Keely will review the formulas with a goal of knowing them by heart. For courses that need more memorization, like biology, she will use Quizlet, a website and an app that is free to use. Keely recommends students use this tool for their classes to help ease study stress.
While some students might be saving their studying for a last-minute trip to the Tutoring Center, Ferris biotechnology senior and Tutoring Center employee Jennifer Tran advises students not to come too late, and to instead be prepared and set up an appointment. This is the best way to make sure there will be a tutor available for your specic class.
"Try your best to actually sleep," Tran said. "Because taking an exam can be hard enough — doing it while you're half-awake is going to be extremely difficult." While sleep is essential, eating properly is, too. The Tutoring and Writing Centers offer snacks for students to munch on while working there.
Though Tran helps students study, she is also a student with finals coming up. Looking over the materials that will be on the exam, as well as reading through notes and study guides, helps Tran remember class discussions so she doesn't have to cram the night before.
Academic Literacy Center paraprofessional Kimberly Smith advises students to start studying early and making a five-day study plan.
A common mistake that students make, according to Smith, is studying for too long without taking breaks. Smith said students should study for an hour, then take a five-minute break. She also recommends switching subjects every so often.
Smith suggests students start studying early, have a plan, use old study guides and seek out a tutor.
Considering exam week, the Tutoring Center will have extended hours for students. Instead of closing at 5 p.m., they will be closing at 8 p.m. starting Monday, April 29, and ending Thursday, May 2, by appointment only. The Tutoring and Writing Centers are located in FLITE 120.
To schedule an appointment at the Tutoring Center, call (231) 591-3543, go to FLITE 120 or navigate MyFSU/ Student/ Academic support/ Tutor Trac login. To schedule an appointment with the Writing Center, visit ferris.mywconline. com.