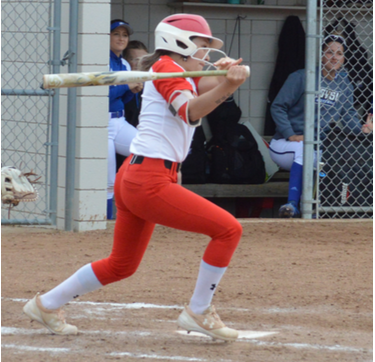 With only three seniors on the Ferris softball team, the underclassmen are stepping up in their roles so the team can advance into the postseason.
This year, the softball team has had 213 runs in 52 games of the regular season, including 17 home runs. With such a young core of players, the coaches have also looked to bring in more young talent. The underclassmen on the softball team don't stop them from growing and learning how to win games. In fact, they are becoming signicant parts of the team's growth.
"You can see it out on the field, not just in the dugout, or off the field kind of things, but you're seeing the younger classmen step up into more pivotal roles on the field in games and see them be leaders out there as well," Ferris head softball coach Kristin Janes said.
The softball team has earned the final spot in the Great Lakes Intercollegiate Athletic Conference (GLIAC) tournament. Janes understands that only eight teams out of the nine in the conference make the playoffs, but it's still a huge deal to her and the team.
"It shows that it's not a guarantee and it shows them that we have wins against everyone in the conference this year except for one," Janes said. "To show that you can go out there and beat anybody at any time, that is a huge morale boost for future seasons."
Not only is the head coach seeing the team build around younger talents, but so are the upperclassmen who are helping teach those younger players.
Ferris junior pitcher Connor Proctor, who transferred from Lansing Community College, said having a young team shows how much progress they have made this season with so many underclassmen.
"You can tell that we are a building program, and we are getting better while bringing in good players," said Proctor. "There's a different type of playing here, but we've really gotten along very well, and very good cohesion with everyone."
Not only does Proctor see this young core working well as a team, but so does Ferris sophomore third baseman Jackie Kirkpatrick. With a year under her belt, Kirkpatrick can tell that the freshmen aren't shy of being physical to win.
"They're coming in, making base hits and stepping up big as young talents, along with the entire team being physical," said Kirkpatrick.
"Everybody has a job and they do that job."
Kirkpatrick said this was the most positive team she has ever been on.
With everyone on the softball team working well together and helping in every way they can, the upperclassmen have built great chemistry among the team and it shows.
"Those three seniors have been here a really long time and made a huge impact on this team and this program couldn't have better leaders," Janes said. "It's been really awesome to have these three seniors be able to teach, show and lead the underclassmen how things are supposed to be."
Ferris softball advanced to the postseason and will be the No. 8 seed in the GLIAC tournament, which is a double elimination tournament. The Bulldogs will be taking on rival Grand Valley State University in the rst round of the tournament starting 10 a.m. Friday, May 3, in Sandusky, Ohio.